Categoria de sloturi online disponibile în exclusivitate pe Betano.com primește o nouă imagine semnată de KUBIS.
Gala Exclusivităților Betano marchează debutul parteneriatului dintre KUBIS și Betano România, într-o campanie de comunicare a sloturilor disponibile în exclusivitate pe cea mai bună platformă mobilă de cazinou online și pariuri sportive, conform EGR Awards 2019.
Cu obiectivul de diferențiere a comunicării brandului în categoria sloturilor online exclusive, dar și de a păstra nivelul de premiumness regăsit în comunicarea Betano România, campania pornește de la o observație strategică în care consumatorul de streaminguri cinematografice se suprapune perfect cu cel al cazinourilor online. Plecând de la nevoia acestuia tot mai mare de a trăi experiențe digitale dedicate lui, campania Gala Exclusivităților Betano construiește o lume în care fiecare jucător de cazinou intră în pielea unui actor principal dintr-un blockbuster, având astfel o experiență de neuitat.
"Campania Gala Exclusivităților dedicată jocurilor lansate în premieră în platforma noastră vine ca o continuare firească a misiunii pe care Betano și-a asumat-o în fața clienților și anume de a oferi entertainment la cele mai înalte standarde, atât pe platformă, dar și pe canalele noastre de comunicare. Lansarea primului filtru de realitate augmentată pe canalul nostru de Instagram este doar unul dintre multele proiecte inovative pe care le pregătim pentru a oferi clientilor noștri o experiență completă, în premieră.",
Roxana Dinescu, Marketing Manager, Brand & Communication, Betano.
"Obiectivul echipei KUBIS în raport cu toți clienții noștri este să le oferim consultanță de top în comunicarea brandurilor pe care lucrăm. Așadar, când a apărut oportunitatea de a face asta pentru un brand super premium dintr-o industrie nouă pentru noi, am tratat-o ca atare. Ne bucurăm de câștigarea acestui nou challenge și de faptul că, împreună cu Betano, avem oportunitatea să stabilim o poziționare diferențiatoare a exclusivităților platformei de Casino, într-o industrie foarte competitivă.", 
Ada Gheorghiu, Group Account Director, KUBIS.
De la scena de film de acțiune la gala de premiere plină de glam, povestea spotului este spusă de Alice Peneacă, promotorul viitoarelor exclusivități de pe Betano.com. Line-ul Joci în premiere, ești premiat invită consumatorii de sloturi online să profite de fiecare ocazie nouă de câștig, disponibilă cu fiecare exclusivitate lansată pe platformă.
"Piața de sloturi online este încă tânără, iar publicul ei este extrem de variat. Dacă în unele categorii există deja rețete de comunicare, aici vorbim despre o piață care necesită o doză mare de testing. Așadar, pentru prima noastră campanie Betano a fost imperativ să spargem bula în care ne aflăm, să facem un research extins, extrem de bine documentat, și să lucrăm și mai îndeaproape cu strategia pentru a găsi puncte comune care pot lega un target atât de vast. Așa am ajuns la o convenție care poate fi înțeleasă de cât mai multe categorii de target, cu un mesaj care e și simplu, și memorabil, dar și acționabil: Joci în premiere, ești premiat.",
Carina Toma, Group Creative Director, KUBIS.
Atmosfera de gală a fost extinsă dincolo de covorul portocaliu, luând forma primului filtru interactiv de Instagram inspirat de sloturile online exclusive. Astfel, din dorința de a oferi încă o ocazie de premiere, Betano declină campania într-o activare digitală în care elementele cinematografice construiesc experiența unui slot exclusiv, chiar în secțiunea de Story.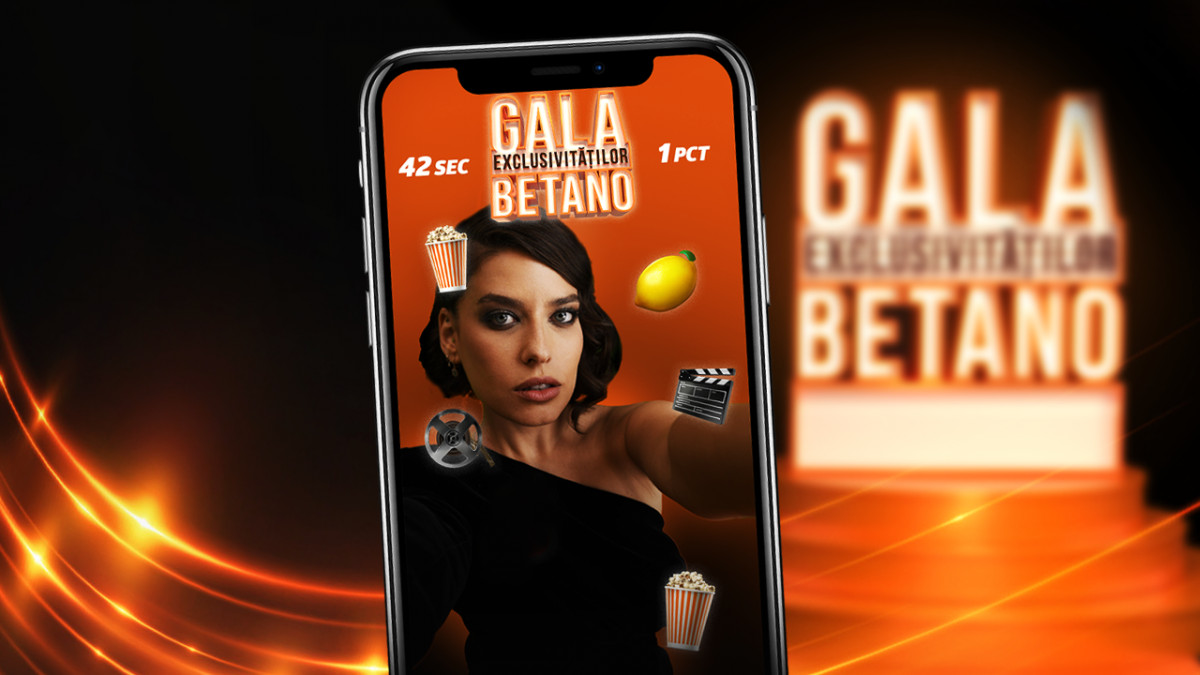 Campania Gala Exclusivităților Betano, lansată în mai 2021, devine comunicarea principală a tuturor sloturilor online lansate în exclusivitate pe Betano.com.
Echipa KUBIS
Carina Toma – Group Creative Director
Victor Firan – Senior Art Director
Andrei Bilan – Head of Art
Marius Goleanu – Head of Innovation
Alexandra Aliman – Copywriter
Bianca Mănescu – Head of Strategy
Ada Gheorghiu – Group Account Director
Georgiana Feriu – Account Manager
Sebastian Luba – Head of Social Media
Vlad Iosipescu – Social Media Manager
Matei Pașpan – Head of Performance
Răzvan Radulescu - Animation Specialist
Ionut Avădanei – DOP
Marian Ciungu – Editor
Echipa Betano
Dragoș Mîndreci – Country Manager
Roxana Dinescu – Marketing Manager, Brand & Communication
Vadim Cușnarencu – Marketing Manager, Performance
Ciprian Enache – Content & Social Media Executive
KUBIS este o agenție de comunicare integrată, cu suflet de digital, pusă în fiecare zi în mișcare de peste 70 de creative digital wizards. Cu o experiență extinsă în comunicare integrată pe aproape toate verticalele de business, atât din B2C cât și din B2B, KUBIS are parteneriate de durată cu unele dintre cele mai importante companii de pe piaţă: Vodafone, Philip Morris, Unilever, LIDL, Jacobs, NN Asigurări, Unicredit Bank, Philips, Betano, Dr.Max, Saeco, Napolact, precum și cu ONG-uri prestigioase ca Salvați Copiii și WWF România.
BETANO face parte din grupul Kaizen Gaming, leader pe piața de GameTech din Grecia, alături de brandul Stoiximan. BETANO are o prezență activă în zona de Joc Responsabil, prin implementarea unor soluții inovatoare, bazate pe utilizarea Inteligenței Artificiale (AI), pentru a veni în sprijinul utilizatorilor și a le oferi o experiență de pariuri sportive și cazinou online completă.
În România, BETANO investește constant în susținerea sportului de performanță și a sportivilor de elită, fiind partenerul principal al echipei CS U Craiova, partenerul oficial al echipei de fotbal FCSB, partenerul oficial al celei mai bune luptătoare a României, Alina Vuc, dar și partenerul principal al Federației Române de Automobilism Sportiv pentru Campionatul Național de Raliuri. De asemenea, compania susține comunitățile din toate țările în care este prezentă, prin implicarea în proiecte ample de responsabilitate socială la nivel regional.
Grupul este prezent în șase țări: în Grecia și Cipru, prin brandul Stoiximan, și în Germania, România, Portugalia și Brazilia, prin brandul internațional BETANO.