Inscrierile la cea de-a 14-a editie a competitiei Romanian PR Award incep astazi si se vor incheia pe 7 octombrie 2016. 
"Lansam aceasta editie sub semnul diversitatii, cea care ne-a inspirat in definirea noului concept grafic. Fara a face din diversitate o preocupare obsesiva sau un scop in sine, credem ca breasla noastra poate acomoda o doza considerabil mai mare de diversitate 'practica', fie ca ne referim la diversitatea de aptitudini, de talente si resurse puse in joc sau pur si simplu la diversitatea de opinii, abordari si instrumente.

Esentiala ni se pare insa recunoasterea rolului pe care conceptul il poate avea pentru progresul industriei, experienta nemijlocita a diversitatii si valorificarea ei in concret, fara de care diversitatea ramane doar un concept interesant, dar greu de apucat in practica relatiilor publice", a declarat Dana Oancea, Board Member Forum for International Communications.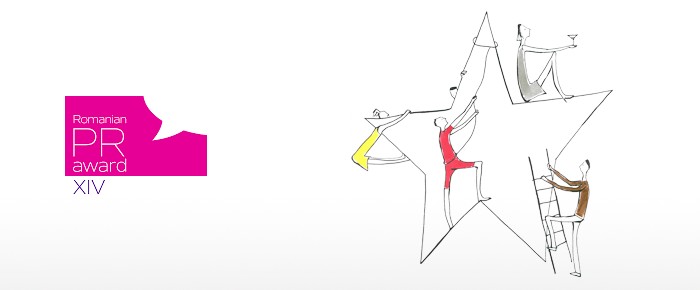 Jurizarea competitiei reuneste competente din 8 tari si este asigurata de directori de comunicare ai companiilor Raiffeisen Bank, Telekom Romania, Coca-Cola HBC, URSUS Breweries, Banca Transilvania, Honeywell, JTI, Danone, Bitdefender, Grupul CEZ, Samsung, KFC, Unilever, GSK, BNR, McDonald's, Unicredit, Henkel, SABMiller, reprezentanti ai retelelor globale - Golin, MSLGroup, Hill & Knowlton, Ketchum, Ogilvy, Grayling, Action Global Communications, executivi ai agentiilor locale de PR - DC Communication, Rogalski Damaschin PR, McCann PR, Golin, MSLGROUP The Practice, GMP PR, Graffiti PR, BDR Associates, Oxygen Public Relations, V+O Communication, Daescu Bortun Olteanu, Media Pozitiv, OMA Vision, SmartPoint, 2activePR, Image PR, Ranevents, Prais Communications, PR & More, OMA Vision, The Public Advisor, Pastel, reprezentanti ai presei – Hotnews, precum si consultanti independenti, cercetatori, reprezentanti ai organizatiilor internationale - CIPR, AMEC, United Nations, Museum of Public Relations si Forum for International Communications.
Gala Romanian PR Award va avea loc in seara zilei de 23 noiembrie, la JW Marriott Grand Hotel. In afara premiilor pe categorii, juriul va acorda distinctiile Agency of the Year, PR Professional of the Year si Communicator of the Year.
Distinctia "PR Innovator of the Year" este acordata de Telekom Romania si ofera vizibilitate proiectelor care prin inovatia pusa in joc si excelenta executiei trec dincolo de granitele comunicarii obisnuite, de limitele actuale de practica si acceptare.
Pentru al treilea an consecutiv, Raiffeisen Bank continua acordarea distictiei speciale "Best of PR Evaluation", singura distinctie din Romania care recunoaste excelenta si diversitatea practicilor de evaluare in PR.
Competitia Junior PR Award este organizata anul acesta cu sprijinul Image PR si isi propune sa rasplateasca creativitatea aspirantilor la o cariera in domeniul relatiilor publice.
Romanian PR Award este sustinut de Telekom Romania, partener principal, de partenerii - Raiffeisen Bank, Coca-Cola Hellenic, Ursus Breweries, Bitdefender, KFC, Banca Transilvania, Grupul CEZ si Grup Renault, de partenerii logistici – Halewood, 360Revolution, JW Marriott, de partenerul Junior - Image PR, si de partenerii media - Hotnews, PR Romania, IQads, Adhugger, Markmedia.ro, CSR Romania si Zelist.
Aflata la cea de-a 14-a editie, Romanian PR Award este cea mai importanta competitie nationala de recunoastere a excelentei in domeniul Relatiilor Publice. Un proiect 'incapatanat' si de cursa lunga care a reusit sa adune sub aceeasi umbrela parteneri prestigiosi, nume marcante ale breslei, concurenti valorosi si zeci de tineri aspiranti la o cariera in PR.
Importanta competitiei a crescut odata cu dezvoltarea industriei locale de PR, iar relevanta ei se masoara in multitudinea de concurenti aflati an de an la start, in performantele finalistilor si in profesionalismul celor care ii arbitreaza.
Forum for International Communications este o organizatie non-guvernamentala care cultiva in mediul comunicatorilor profesionisti standarde etice si de performanta ale profesiei de relatii publice. Fundatia organizeaza din 2003 Romanian PR Award, impus drept cel mai important eveniment de recunoastere a excelentei in domeniul comunicarii de afaceri din Romania.
In martie 2006, Forum a initiat programul CSR Romania cu scopul de a promova bunele practici in domeniul responsabilitatii sociale corporatiste, program afiliat la reteaua europeana CSR Europe. In aprilie 2009, fundatia a lansat portalul PR Romania, una dintre cele mai relevante publicatii online de PR din Europa, conform Communications Director.