Cand vine vorba de masa de Craciun, romanii sunt traditionalisti. Asa ca a venit intrebarea: cum faci loc Christmas Bucket-ului pe masa traditionala de sarbatori a romanilor, intr-un mod firesc si credibil? Suna ca o misiune imposibila.
In 2016, KFC a lansat prima campanie de Craciun dezvoltata local. Intr-o categorie invadata de super mega oferte, provocarea a fost sa ne facem mesajul auzit cu o investitie media considerabil mai mica decat ai principalilor jucatori.
Strategia de comunicare. Mesajul central
In fiecare an, parintii se dau peste cap cu pregatirile de Craciun. Cumparaturi in supermarketuri superaglomerate, saptamani intregi de cautari pentru bradul perfect, zile petrecute decorand casa pe dinafara, si pe dinauntru. Si in toata alergatura asta dupa perfectiune, uitam ce e mai important, ca suntem impreuna. Asa ca, de Craciunul trecut, KFC ne-a indemnat sa ne salvam parintii de toata nebunia si sa punem noi masa de sarbatori.
"In loc sa ne batem cu traditiile, am conturat o noua ocazie de consum: cina de sarbatori gazduita de tineri. Ce-ar servi tinerii la o astfel de masa? KFC Christmas Bucket." - Alexandru Vasile, Senior Copywriter McCann Romania.
,,Craciunul este o sarbatoare a familiei, marcata de obiceiuri precum impodobitul bradului, darurile Mosului, colindele si mesele bogate. In apropierea sarbatorilor observam cum toata familia devine agitata: mama se preocupa de pregatirea mesei, tata este tot timpul plecat, incercand sa gaseasca bradul perfect. Astfel, anul acesta ne-am gandit sa oferim o mana de ajutor fanilor KFC pentru a readuce linistea in familia lor, putand sa se bucure de o masa relaxata cu cele mai apreciate produse, potrivite pentru toti membrii familiei." - Monica Eftimie, Chief Marketing Officer KFC.
Executii
TV
Campania a avut 3 executii TV care te indemnau sa-i scapi pe cei mai importanti membri ai familiei. Salveaza-l pe tata de saptamanile petrecute cautand bradul perfect:
Salveaz-o pe mama de zilele petrecute decorand totul prin casa:
Si mai ales, salveaza cainele familiei de cosmarul probarii zecilor de costume de Craciun. Pana la urma, daca parintii si-o fac cu mana lor, cainele chiar n-are nicio vina:
Media & canale 
Obiectivul media al acestei campanii a fost de a genera awareness, folosind punctele de contact care s-au potrivit cel mai bine targetului nostru.
Toate cele 3 spoturi TV s-au diferentiat prin tone of voice in aglomeratia de la TV din jurul Sarbatorilor. Pe baza lor, am creat content separat pentru social media in forma unor GIF-uri animate care aratau toata agitatia de sarbatori.
Mixul de media a fost compus din: TV, OOH, Digital.
Internetul a jucat un rol important pentru ca acolo am reusit sa-i implicam pe consumatori intr-un mod inedit. I-am invitat sa vina pe site-ul KFC, sa aleaga o linie melodica dintr-o serie de colinde si sa compuna versurile cu un mesaj personalizat.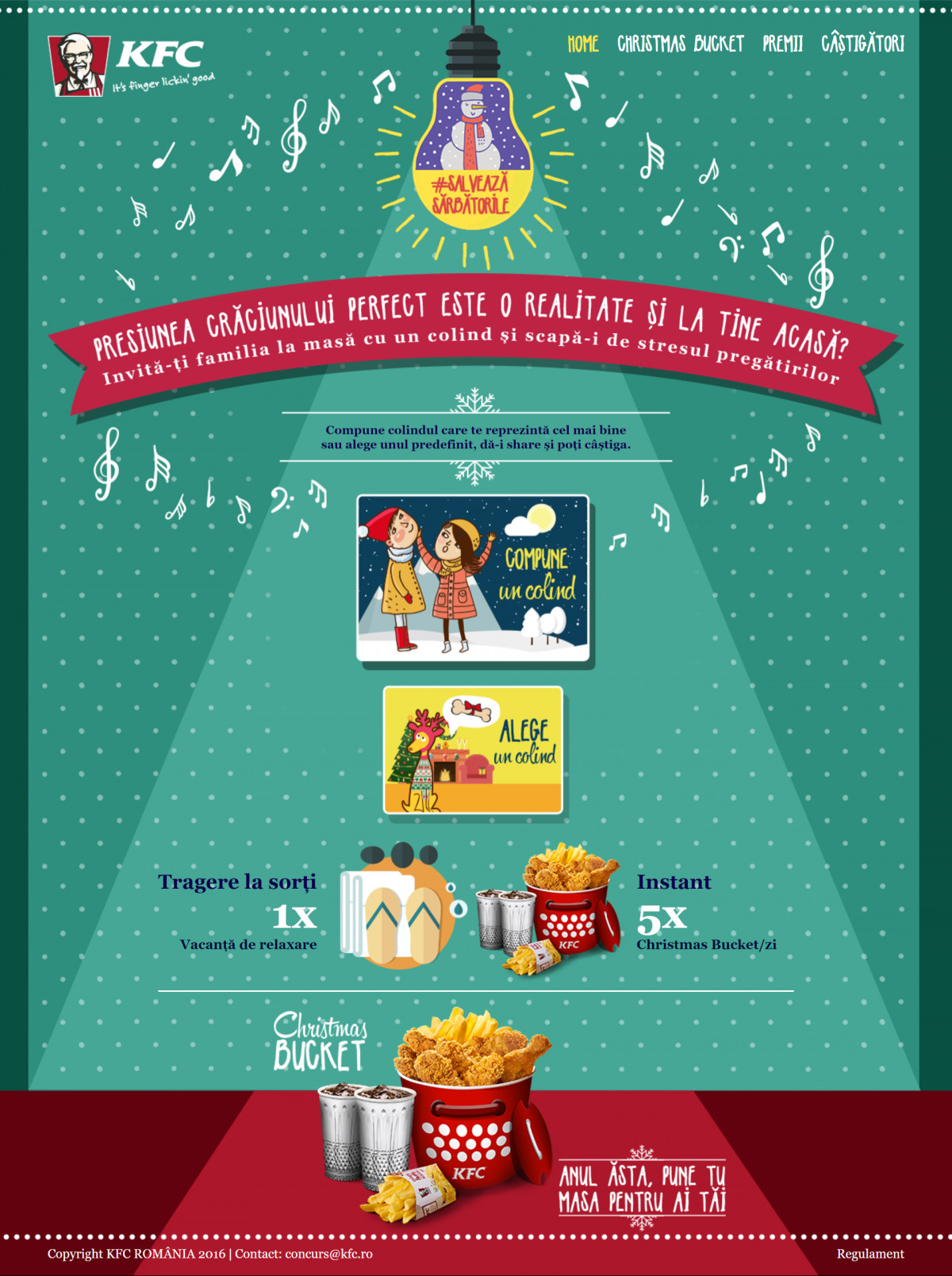 Colindul final era cantat de un cor adevarat si putea fi trimis mai departe ca o urare speciala de Craciun. Am iesit din sfera de colinde despre Mos Craciun, brazi si stelute si am incurajat colindele despre adevaratele intamplari contemporane: cumparaturi, mese incarcate si aglomeratie.
Salveaza Sarbatorile: 
Salveaza Sarbatorile - Colind pentru Tata: 
Salveaza Sarbatorile - Colind pentru Mama:
Rezultate
Vanzarile de buckets s-au dublat pe perioada campaniei si s-au mentinut foarte sus chiar si dupa incheierea acesteia. Mai mult decat atat, am reusit sa obtinem cel mai bun rezultat de pe piata la indicatorul "restaurant fast food preferat" (sursa Brand Tracker Millward Brown Nov-Dec 2016).
Pe online campania a performat foarte bine la capitolul awareness, iar engagementul a depasit asteptarile, aproape 20% dintre sesiunile din timpul activarii s-au finalizat cu un colind original user generated. Aproximativ 20.000 de colinde noi generate in timp record (sursa: Google Analytics, Facebook Insights, lp: craciun.kfc.ro).   
Echipele complete
Din partea KFC Romania:
Monica Eftimie, Chief Marketing Officer
Monica Douglas, Marketing Director
Gabriel Nenciu, Senior Brand Manager
Mariana Lisofschi, Brand Manager
Andreea Boala, Brand Manager
Claudia Porojan, Senior PR & CSR Manager
Tina Cretu, Digital Manager
Cosmin Canteri, LSM Manager
Din partea McCann Romania:
Catalin Dobre, Chief Creative Officer
Alexandru Vasile, Senior Copywriter
Lia Bira, Senior Art Director
Beatrice Iftimie, Chief Growth Officer
Dana Hogea, Client Service Director.
Gabriela Alexandrescu, Group Account Director
Madalina Bozeanu, Senior Brand Strategist
Simona Geaca, Account Director
Ionela C. Vacaru, Account Manager
Oana Grigore, Account Manager
Tiberiu Munteanu, Head of AV
Alex Popa, AV Producer
Cristi Gusa, Senior DTP
Din partea MRM Worldwide Romania:
Ionela Buta, Deputy CEO MRM// McCann
Ioana Filip, Executive Creative Director, MRM// McCann
Sandra Bold, Senior Copywriter, MRM// McCann
Nadejda Ghilca, Art Director, MRM// McCann
Gina Zgubea, Client Service Director, MRM// McCann
Bogdana Voican, Senior Account Manager, MRM// McCann
Cristina Airinei, Account Manager, MRM// McCann
Dany Manea, Technical Lead & Web Developer, MRM//McCann.
Din partea UM Romania:
Alina Vasile, Account Director
Daniela Ochesel, Media Manager
Sandina Crisiarcu, Head of planning
Victor Croitoru, CEE Regional New Business and Strategy Director
Cristian Ene, Senior Digital Planner
Liliana Coman, Outdoor Buying 
Din partea GOLIN Romania:
Irina Roncea, Head of Consumer
Raluca Duta, Chief of Bridge
Ana Filipescu, Manager
Catalina Soare, Digital Manager
Raluca Stoica, Media Associate
Bianca Stoica, Digital Associate