In luna mai a anului trecut, industria locala de comunicare se aduna pentru cateva zile de conferinte si seri de talkuri, in timp ce 8 creativi veniti din agentii independente din toata lumea evaluau si dezbateau 724 de inscrieri generate de 371 de campanii, inscrise de 68 de agentii si freelanceri in competitia Premiilor FIBRA. Suntem bucurosi sa anuntam ca repetam schema si in 2017.
Din toiul pregatirilor ce vor culmina cu doua zile de debate-uri, conferinte si o gala de premiere, va lansam invitatia oficiala: sunteti chemati, dragi publicitari si clienti, pe 16 si 17 noiembrie la Caro City Resort, unde facem a doua editie a Premiilor FIBRA, festivalul de comunicare care sarbatoreste creativitatea autohtona la ea acasa. Festivalul este organizat de IQads, sprijinit de IAA, UAPR, ADC *RO si IAB Romania.
Alaturi de ei, FIBRA continua sa-si desfasoare misiunea consecvent: setarea nivelului de profesionalism si parametrilor intre care se desfasoara una dintre cele mai profitabile industrii ale Romaniei, dar si sustinerea dezvoltarii ei continue. Ne-am propus ca evenimentul sa contribuie, totodata, la incurajarea noilor generatii de creativi, carora le-am dedicat sectiunea competitionala Young FIBRA (care sta sa inceapa, revenim cu detalii si brief foarte curand).
Dincolo de sarbatorirea potentialului ideii creative si curajului in comunicare, ne dorim si sa oferim industriei un loc de intalnire si coagulare, dincolo de orice rivalitate, nemultumire sau ambitii individuale. Un loc in care campaniile romanesti sa fie apreciate intre colegi si abia apoi exportate in afara granitelor.
Pentru a bifa acest obiectiv, FIBRA #2 va pastra structura juriului de anul trecut: jurati internationali, proveniti din cele mai puternice si cele mai premiate agentii independente.
Juratii vor evalua lucrari inscrise in 14 categorii si 42 de sectiuni competitionale: VIDEO (TV/ Cinema; Online; Viral; Branded Content & Entertainment; Other Screens & Events); RADIO; PRINT (Press; Indoor & In-store; Publications and Brand Collateral; Packaging; Brand identity); CRAFT (Best Art Direction; Best Illustration; Best Copywriting; Film Craft; Sound Design; Best Use of Technology); DIGITAL (Web; Branded Games; Branded Apps; Branded Tech; Social Media; Online Banners); INTEGRATED; MEDIA (Creative Use of Media; Creative Media Mix); OUTDOOR (Billboard and Outdoor Poster; Special Projects); NON-PROFIT; PR (Corporate Communications; Media Relations; Sponsorship, Partnership & Endorsement; Experiential/ Stunts); PROMO & ACTIVATION (Brand Activation; Shopper Experience; Brand Promotions); PRODUCT DESIGN; DIRECT MARKETING (Use of Traditional Media for Direct Marketing; Use of New Media for Direct Marketing); EVENTS (Live Shows & Festivals; Learning and Exhibition; Corporate Entertainment).
Etapele competitiei
Inscrierile in competitia FIBRA vor avea loc in perioada 1 octombrie si 1 noiembrie.

Jurizarea va avea loc in perioada 1-15 noiembrie, urmand ca shortlisturile sa fie afisate pe 16 noiembrie.

Castigatorii vor fi anuntati in cadrul unei Gale de premiere pe 17 noiembrie.
Pe langa competitie, reluam si bunul obicei de a va chema la cateva sesiuni de knowhow, creativitate si (re)uniuni: pe 16 si 17 noiembrie, in cadrul Caro City Resort vor avea loc si Conferintele FIBRA.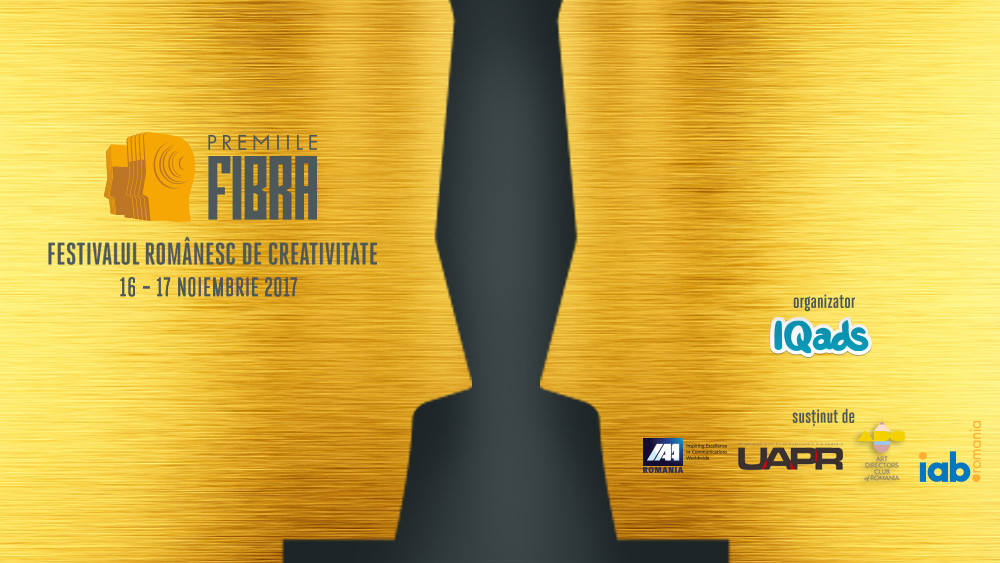 Acestea vor reuni peste 30 de speakeri pe parcursul a doua zile de dezbateri despre creativitate, care vor culmina cu Gala de premiere FIBRA Awards. Programul acestora va fi anuntat la jumatatea lunii septembrie.
Cum a fost la FIBRA #1
Prima editie a premiilor FIBRA a venit dupa o pauza de circa 2 ani in care industriei romanesti i-a lipsit recunoasterea locala. Lucru remediat intre 3-6 mai, la Hotel Caro, unde am cazat 8 creativi din toata lumea, proveniti din agentii independente, care sa plaseze campaniile romanesti pe culmile gloriei binemeritate, nu fara a da niste feedback.
La prima editie de FIBRA au jurizat Evgeny Primachenko (Copywriter, Wieden+Kennedy Amsterdam), Karpat Polat (Owner, KARPAT), Bruno Luglio (Senior Art Director, R/GA New York), Robert Nagy (HEAVY), Olivia Walsh (apple tree communications), Radinka Danilov (Executive Director, Ruskin & Hunt), Wendy Richardson (Art Director, 72andSunny Netherlands), acestia fiind prezidati de Kevin Brady (Executive Creative Director, Droga5).
Daca tot am ajuns aici, sa va reamintim cum am adus la un festival din Romania materia creativa de clasa Droga5. Complotand alaturi de GMP Advertising, am lansat un concurs absurd numit Droga vs. Bogusky.
Evident, meciul (care avea si scor) era numai o modalitate de a atrage atentia sus-numitilor creativi, cu tot cu disponibilitatea si vointa de a zbura pana in Europa de Est ca sa jurizeze un festival de creatie romanesc.
Cum ne-am pus pe facut tamtam scotand Twitter-ul de la naftalina si cum ne-am trezit cu Alex Bogusky si, apoi, cu David Droga in inboxuri am povestit aici. Eforturile noastre l-au adus pe Kevin Brady in comitetul de jurizare de la FIBRA, pe scena festivalului si la pianul de la Hotel Caro, folosit pentru niste sesiuni spontane de karaoke.
Cateva impresii la cald, pe video, de la un ECD Droga5, mai jos.
Toate marturiile video ale juriului de anul trecut, aici.
In urma evaluarii, la prima editie a Premiilor FIBRA s-au acordat 21 de premii Gold, 27 de premii Silver, 42 de premii Bronze, 3 premii Grand FIBRA, 1 premiu special si 5 distinctii:
- Clientul Anului: Vodafone Romania;

- Campania Anului: CohnandJansen JWT - "Purity Test" pentru AQUA Carpatica;

- Agentia Anului: McCann Worldgroup Romania;

- Copywriterul Anului: Sandra Bold (McCann Worldgroup Romania);
- Art Directorul Anului: Miruna Macri (Publicis Romania si McCann Worldgroup Romania).
Alte 9 premii (3 Gold, 3 Silver si 3 Bronze) s-au oferit in cadrul Young FIBRA, competitia dedicata tinerilor sub 30 ani care au lucrat pe briefuri reale oferite de URSUS si Carrefour Romania.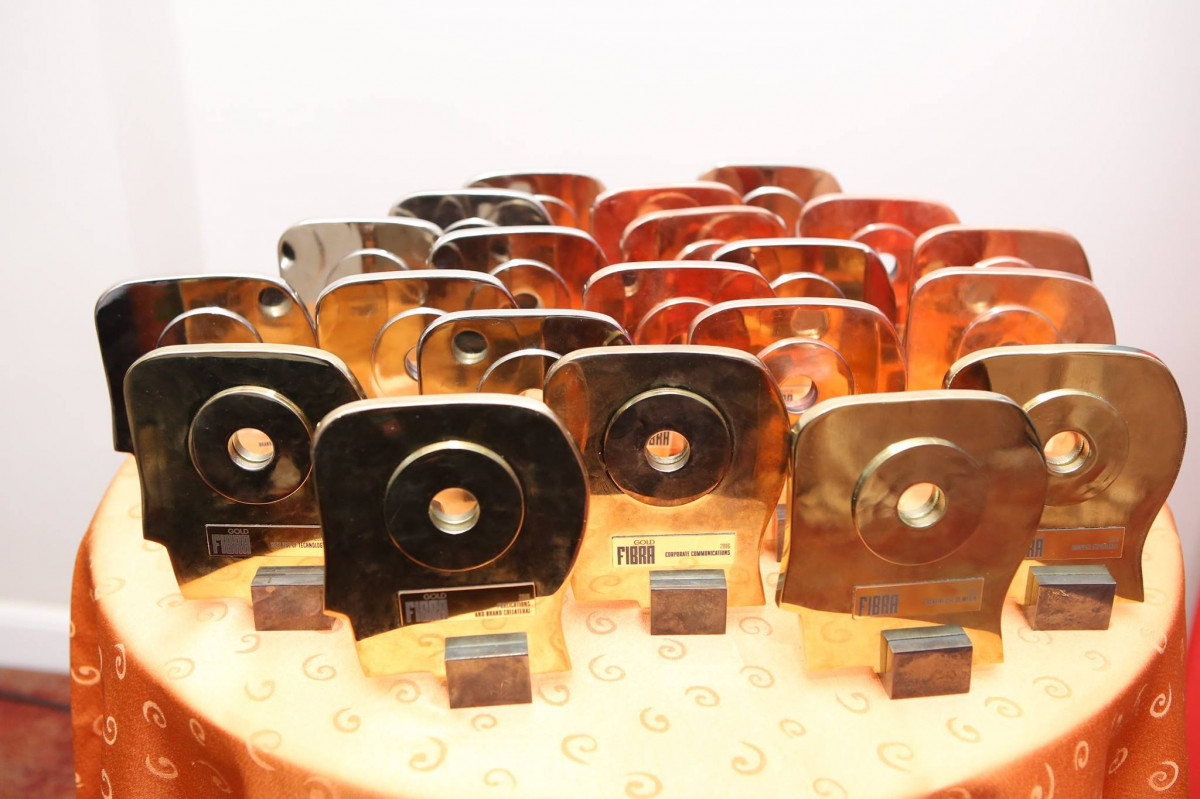 Anul acesta, mai ridicam putin stacheta, facem si pointerele sa mearga mai bine, adaugam un ecran mare de proiectie pentru gala de premiere samd, dar nu va mai spunem ca sa vedeti la fata locului. Ne auzim curand si cu bine cu detalii si specificitati.
Premiile FIBRA reprezinta un demers local necesar pentru a seta nivelul profesionalismului din marcomul autohton si, totodata, pentru a-i sustine dezvoltarea. Prin intermediul Premiilor FIBRA recunoastem, incurajam si premiem valoarea creativitatii locale si readucem entuziasmul si curajul la masa dezbaterilor creative.
Festivalul este organizat de IQads, platforma dedicata industriilor creative din Romania.