Unele persoane sunt de părere că lucrurile se întâmplă ceva mai târziu în București decât în alte orașe ale Europei. O bună parte dintre artiștii și trupele muzicale internaționale vin la noi după ce au făcut deja înconjurul lumii de 2 ori, serviciile de streaming apar abia după ce am văzut toate spoiler-ele pe net, iar exemplele pot continua. Însă acest lucru urmează să se schimbe. De această dată, România este prima destinație pentru ceva: Taco Bell, cel mai mare lanț de restaurante quick service din lume care oferă produse de inspirație mexicană, se deschide în București în octombrie.
Primul restaurant Taco Bell din România, care va fi amplasat în Băneasa Shopping City, va fi și primul din Europa Centrală și de Est. De fapt, acesta va fi singurul Taco Bell pe o rază aeriană de 1.208 kilometri.
Noul Taco Bell din București va fi la 15 minute de Piața Romană. Și la doar o oră și 15 minute de Roma - cu avionul. La doar 637 de kilometri de Budapesta și la 833 de kilometri de Viena. E un drum de duminică. Pentru un pilot de endurance racing.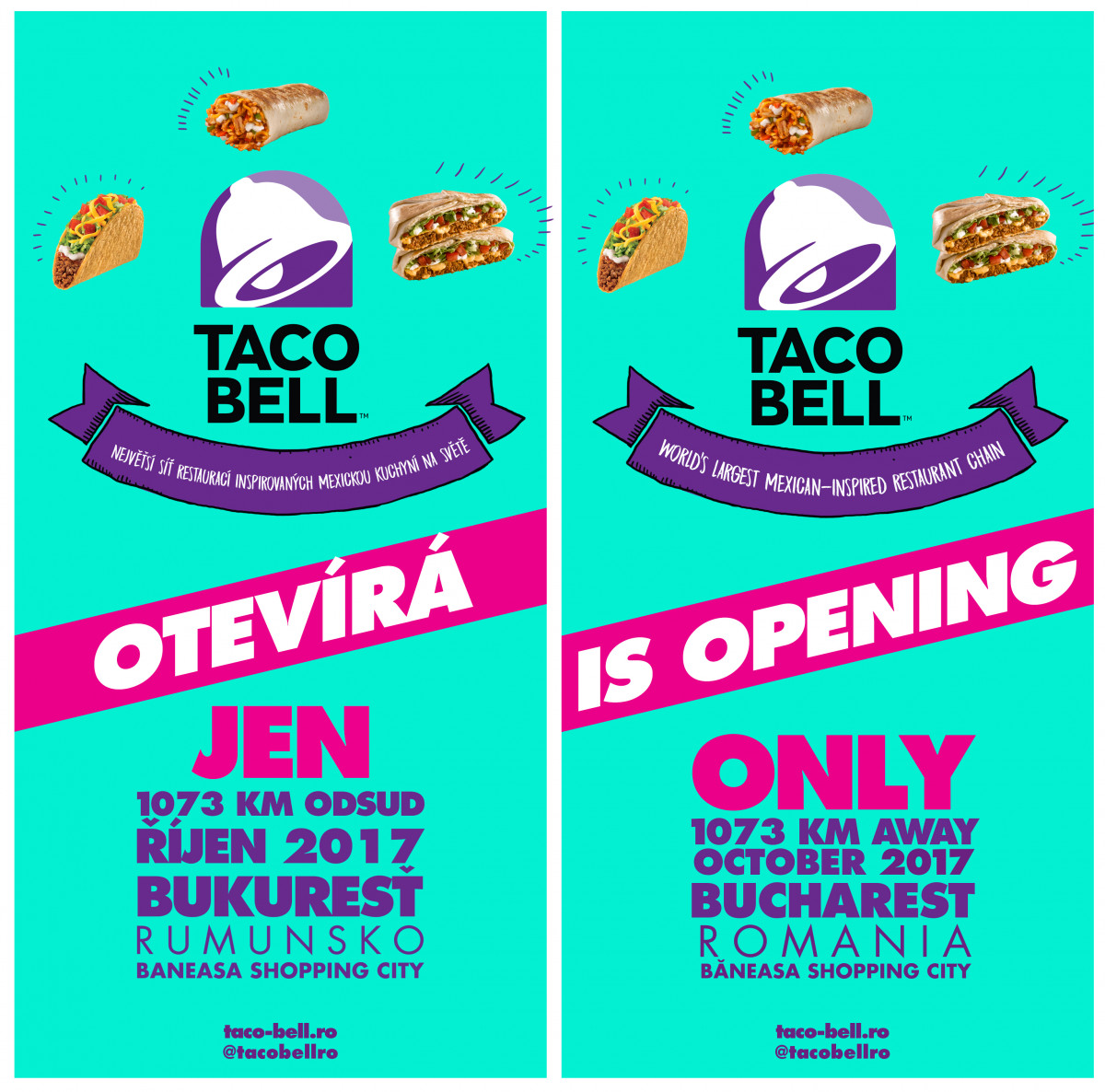 Toată lumea va afla de lansare. Pentru că va fi comunicată nu doar în București, ci și în capitale din regiune (Praga, Viena, Budapesta) printr-o campanie de outdoor. Așa, și vecinii noștri se pot bucura de un Crunchy Taco, un Fajita Burrito sau o Quesadilla gustoasă de la Taco Bell. Și, dacă ajung în București cu acest pretext delicios, pot vizita și capitala. E doar la un zbor distanță. Sau la un drum ceva mai lung cu mașina.
CREDITS
CLIENT:
Monica Eftimie, Chief Marketing Officer
Andreea Boala, Brand Manager
Tina Cretu, Digital Manager
Cosmin Canteri, LSM Manager
Claudia Porojan, Senior PR & CSR Manager
AGENTIE: 
McCann Romania
Catalin Dobre, Chief Creative Officer
Costin Bogdan, Group Creative Director
Arpad Rezi, Group Creative Director
Andrei Mihailescu, Copywriter
Radu Rebei, Art Director
Paula Ionescu, Copywriter
Carmen Marin, Group Account Director
Ionela C. Vacaru, Account Manager
Ermina Burciu, Account Executive
Dimitris Tsoutsos, Senior Brand Strategist
Silviu Filipovici, Senior Designer
Claudiu Constantin, Designer
Tiberiu Munteanu, Head of AV
Cristi Gusa, Senior DTP
MRM Worldwide Romania
Ionela Buta, Deputy CEO MRM// McCann
Ioana Filip, Executive Creative Director, MRM// McCann
Mihai Vasile, Copywriter, MRM// McCann
Raluca Circo, Art Director, MRM// McCann
Oana Grasu, Account Director, MRM// McCann
Ruxandra Florescu, Account Executive, MRM// McCann
UM Romania
Victor Croitoru, CEE Regional New Business and Strategy Director 
Alina Vasile, Account Director
Daniela Ochesel, Media Manager
Sandina Crisiarcu, Head of Planning
Cristian Ene, Senior Digital Planner
Anca Popescu, OOH Buyer
GOLIN Romania
Roxana Diba, Head of Brand Communication
Marina Constanda, Manager
Bianca Cenusescu, Media Associate
Mihai Stanciu, Senior Digital Manager
Bianca Stoica, Digital Associate
Andreea Slujitoru, Junior Digital Associate
Sphera Franchise Group S.A. este cel mai mare grup de restaurante din România şi deţine companiile care operează în sistem de masterfranciză brandurile KFC, Pizza Hut, Pizza Hut Delivery şi Taco Bell.
Taco Bell Corp., subsidiară a Yum! Brands Inc. (NYSE: YUM), este cea  mai mare rețea de tip "quick service restaurant" (QSR) din lume în domeniul produselor de inspirație mexicană. Taco Bell pune la dispoziția clienților săi produse preparate pe comandă, taco și burrito personalizabile și alte specialități cu arome curajoase și ingrediente de calitate, precum și cel mai bun serviciu din domeniu pentru cei peste 40 de milioane de clienți ai brandului la nivel mondial, în fiecare săptămână. În prezent, sunt peste 360 de restaurante Taco Bell în 25 de țări din afara Statelor Unite, iar obiectivul de extindere internațională a brandului vizează 1.000 de locații până în 2022.