Agenția Saatchi & Saatchi + The Geeks, parte din Publicis Groupe Romania, lansează o nouă campanie de poziționare pentru retailer-ul PROFI. Aceasta abordează insight-uri relevante și amuzante din viața complicată de familie a românilor și vine cu promisiunea de a le oferi clienților PROFI o experiență la cumpărături simplificată, prin produse de bază la prețuri mici în fiecare zi și magazine aproape de casă.
"Retail-ul e o categorie extrem de activă din punct de vedere al comunicării iar de-a lungul timpului s-au făcut o mulțime de campanii creative. Așadar, nu e ușor să vii cu ceva diferit și care să fie totodată aproape de realitate când vine vorba de un retailer care vrea să își găsească o nouă poziționare. Din acest motiv ne-a plăcut tare mult challenge-ul și am pornit de la un research dedicat apropos de ce nevoi au românii și, în paralel, de la ce e PROFI de fapt: un loc unde e simplu și convenabil să îți faci cumpărăturile - pentru că are zilnic prețuri mici, ajungi imediat la un magazin și găsești ușor produsele care îți plac, fără să te pierzi într-un raion cu 800 de feluri de brânzeturi cu nume greu de pronunțat (pardonnez moiJ ). Altfel spus, un brand care simplifică viața când vine vorba de cumpărături și răspunde nevoii de predictibilitate/simplificare pe care o au majoritatea românilor", a spus Miruna Antonescu, Head of Planning @ Saatchi & Saatchi + The Geeks.
"Două rute strategice, patru direcții creative, un an în care am căutat cu toții cea mai bună formulă de repoziționare pentru PROFI. Pare că viața de creație este și ea uneori complicată, dar a fost genul de proiect și de client care ne-a hrănit din punct de vedere creativ. Amândouă fiind mame, ne-am identificat ușor cu o parte din target și cu experiențele din viața lor. Cumva, întreaga campanie pune focusul pe oameni, pe viața lor plină de situații haioase și credem că este genul de campanie care poate trăi mult timp prin tot felul de execuții insightful", a declarat  Cristiana Petre, Senior Copywriter & Roxana Coman, Senior Art Director.
"În contextul în care de mulți ani magazinele PROFI cooperează cu mai multe agenții de publicitate și comunicare, ne bucură colaborarea cu Saatchi & Saatchi + The Geeks din care a rezultat această campanie reușită de repoziționare", a spus Gabriela Sîrbu, Director de Marketing și Comunicare PROFI. "Sperăm că și publicul nostru o va îmbrățisa cu empatie și că reacția va fi una favorabilă."
Campania este promovată integrat pe toate canalele: TV, radio, digital, social media, outdoor.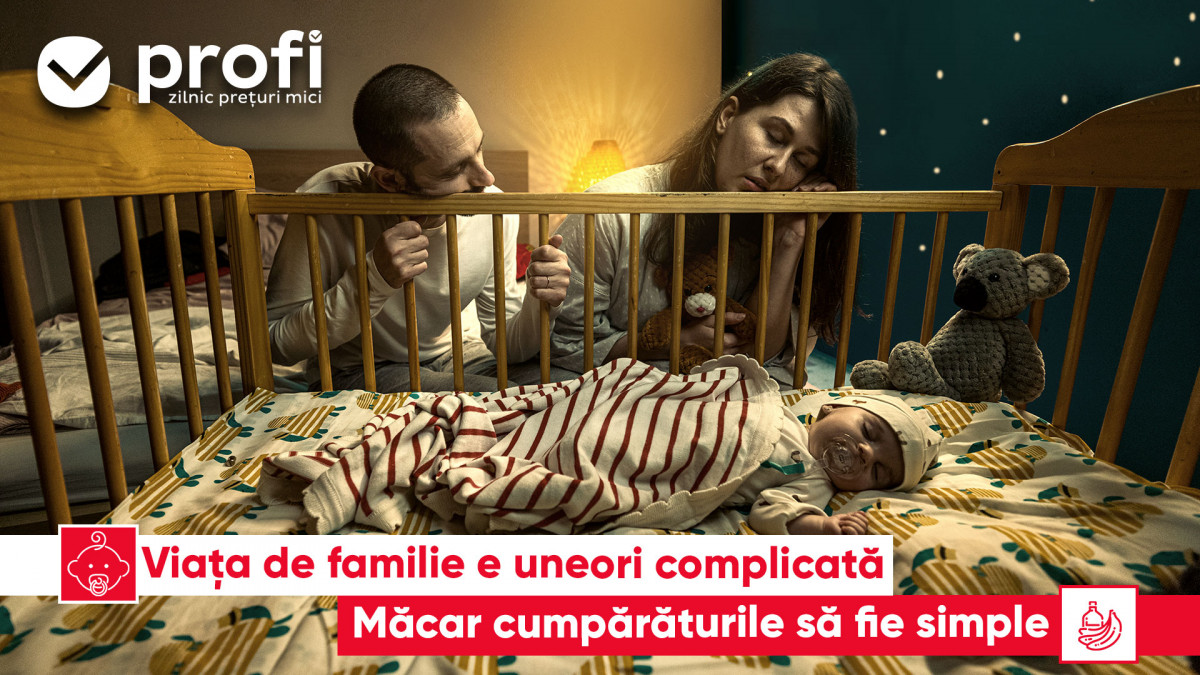 PROFI este rețeaua de retail modern cu cea mai mare extindere geografică din România și cu un ritm de creștere încă neegalat în această țară. În mai 2019, aceasta a devenit și prima rețea de la noi cu mai mult de 1.000 de magazine, amplasate în aproape 500 de localități din toate județele și municipiul București. 
Din septembrie 2020, pe lângă magazinele în format Standard, City și Loco, PROFI lansează primul concept de magazin, cu peste 1.300 de produse noi față de magazinele Profi actuale și cu un design modern. O altă noutate din aceste magazine va fi și zona fiiGO, ce cuprinde un modul  cu produse preambalate și panificație coaptă în magazin, dar și un spațiu coffee corner cu hot-dog, grill-uri, sandvișuri, pizza, fresh-uri de fructe, cafea, prăjituri și înghețată produsă pe loc. 
Saatchi & Saatchi + The Geeks este o agenție de comunicare integrată full service, parte din Publicis Groupe, unul dintre cele mai mari grupuri de comunicare din lume și cel mai mare din România. Agenția are în portofoliu clienți precum Daimler, Edenia, Groupeseb (Tefal, Rowenta, Krups), Jacobs, Profi, Provident.
Echipa Profi
Gabriela Sîrbu – Communication and Marketing Director 
Valentin Cristescu – Marketing Manager 
Andreea Oancea – Communication Coordinator 
Corina Badișor – Digital Marketing Specialist 
Claudia Gheorghiu – Communication Coordinator
Echipa Saatchi & Saatchi + The Geeks
Vlad Petre – Managing Director
Miruna Antonescu – Head of planning
Irina Ivăneț – Junior Strategic Planner
Bogdan Costin – Creative Director
Cristiana Petre – Senior Copywriter
Roxana Coman – Senior Art Director
Bogdan Popescu – Art Director
Mădălina Stoica – Account Director
Monica Grecu – Senior Account Executive
Echipa Spark Foundry
Daniela Eustafievici – Digital Client Lead
Gabriel Țugulan – Digital Media Planner
Marius Jerca – TV Sr. Media Planner
Camelia Dumbravă – Investment Lead
Adrian Pătărlageanu – Client Lead