The Institute prezinta a XV-a editie Internetics, prima competitie de branding, marketing si advertising online din Romania. Gala de premiere va avea loc pe 23 noiembrie la Teatrul National Bucuresti.
Competitia Internetics reuneste anul acesta 167 de lucrari, 30 de participanti cu lucrari pentru 65 de branduri.
Participantii Internetics 2015 sunt: BCR, CAP, Carat Romania, CohnandJansen JWT, Digital Star, Eastisoft & FinZoom Romania, FCB Bucharest, FrankGroup, Geometry Global Bucharest, Golin Bucharest, Happy Digital, Jazz, Kaleidoscope Proximity, Kinecto, Kubis Interactive, Leo Burnett Romania, Ogilvy&Mather, Publicis Romania, Republika, Ringier Romania, Rusu+Bortun Cyber Growers, SENIORHYPER, SeniorProgramming, Starcom, Syscom Digital, The Geeks, Tribal Worldwide Romania, UniCredit Bank Romania, V8 Interactive si Webstyler (alaturi de GMP).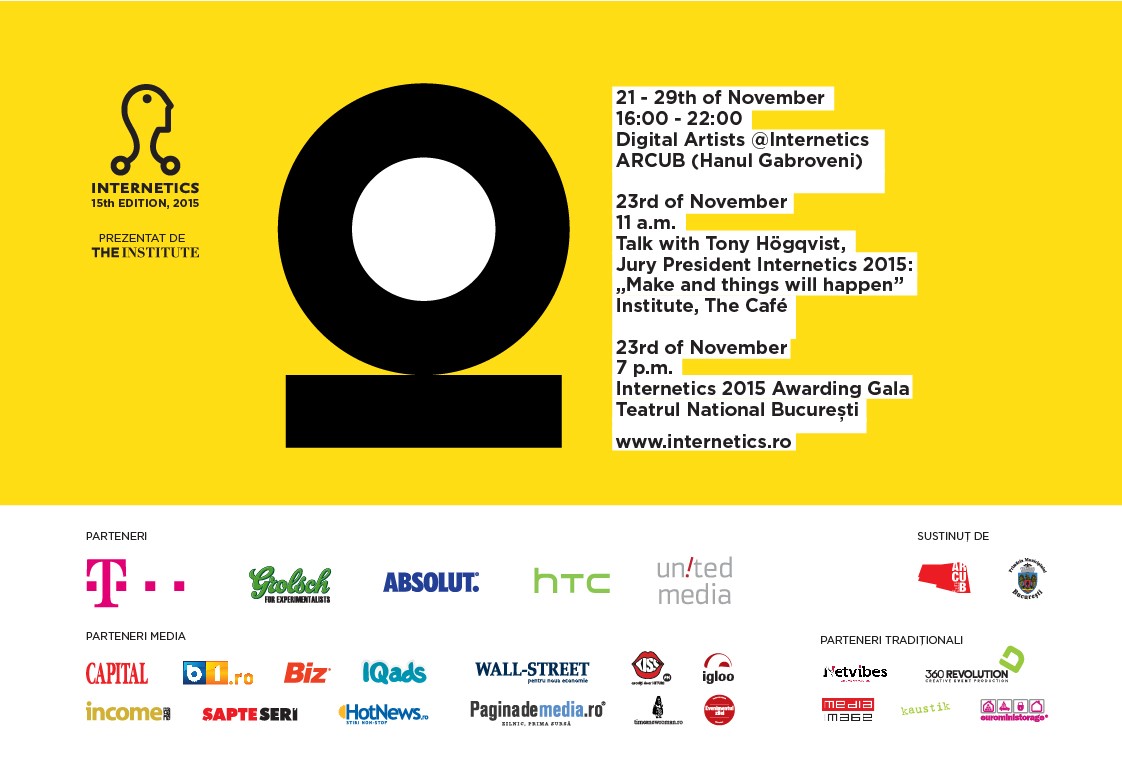 Categoria cu cele mai multe inscrieri este "Interactive Campaigns", cu 40 de lucrari, din care 23 la "Digital component of an integrated campaign" si 17 lucrari la "Full Digital Campaign".
Campaniile inscrise au fost realizate pentru urmatoarele branduri: 5Gum, Absolut Vodka, ACR, Active Watch, Aperol, Aptamil, Asociatia Pro Democratia, Baneasa Grand Entertainment, BCR, Beck`s, Bitdefender, Bonux, Business Review, Colgate, Cora Romania, Corso, Dove, Durex, elefant.ro, E.ON Energy Romania, Federatia Romana de Fotbal, FinZoom Romania, Floriol, Fuchs Mirodenia, Garnier, Grolsch, ING Romania, Jacobs 3ȋn1, Johnnie Walker, Kinecto, Lay's, Lenovo, L'oreal Paris, MasterCard, Mauritius Brown Sugar, Maybelline New York, McDonald's Romania, Mega Image, Mega Mall, Mountain Dew, Muzeul de Istorie Naturala "Grigore Antipa", Napolact, Nescafe, Nivea, NN, OMV Petrom, Opel, Orange, Pate Bucegi, Patru Maini, Pegas, Penny Market Philips, Provident, Renault, Samsung, Samburesti, Siemens, SOR & Natura 2000, Special Olympics Romania, Staropramen, Telekom, UniCredit Bank Romania, Vincon Romania, Westwood.
Juriul competitiei, prezidat de Tony Hogqvist, Fondator si Director Executiv de Creatie al agentiei Perfect Fools din Suedia va stabili cate un castigator pentru fiecare sectiune. Agentia care va aduna cele mai multe puncte va fi desemnata agentia anului Internetics 2015.
"Sunt curios de ceva vreme sa cunosc piata de advertising din Romania, o piata plina de provocari si care pare spatiul ideal in care sa se manifeste creativitatea. Sunt onorat sa conduc juriul Internetics in descoperirea si premierea celor mai bune idei", declara Tony Hogqvist.
Gala de premiere va avea loc pe 23 noiembrie, la Teatrul National Bucuresti, incepand cu ora 19.00. 
Fondat si organizat de catre The Institute, Internetics este un festival de branding, marketing si advertising online, care fixeaza standardele in comunicarea online din Romania prin premierea celor mai bune campanii interactive, site-uri si tool-uri de promovare online si incurajarea creativitatii si a strategiei.
Internetics a aparut in 2001, inca de la inceputul conturarii industriei de online din Romania, contribuind pe parcursul acestor ani la cresterea si dezvoltarea acesteia.