Două trofee Gold și Silver câștigate la Effie Awards Europe 2019 de Leo Burnett Bucharest și Telekom Romania pentru campaniile #NETLIBERARE și Vloggers Swap;

Leo Burnett este singura agenție din România, iar Telekom Romania singurul brand din România premiate în cadrul competiției Effie Awards Europe 2019.
În cadrul galei de premiere a competiției Effie Awards Europe 2019, Leo Burnett România a primit două trofee pentru campaniile implementate pentru Telekom Romania - #NETLIBERARE și Vloggers Swap.
#NETLIBERARE a fost premiată cu GOLD Effie în cadrul categoriei Best of the Best: Consumer Goods & Telecom, iar Vloggers' Swap a primit SILVER Effie în categoria Best of the Best: Media Innovation/Idea.
Ruxandra Rău - Director Brand & Communication Strategy, Telekom Romania
"Suntem mândri și bucuroși să vedem, încă o dată, recunoașterea internațională a performanței campaniilor de comunicare Telekom Romania. Aceste premii nu puteau exista fără rezultatele extraordinare obținute prin curaj, perseverență, muncă și efort împreună, toate turate la maxim, care ne-au ajutat să fim în ultimii doi ani Clientul Anului, Brandul Anului și Agenția Anului la edițiile naționale Effie Romania."
Leo Burnett România este singura agenție din România, iar Telekom este singurul brand din România care au fost premiate în cadrul Effie Awards Europe 2019, competiție anuală ce recunoaște campaniile best of the best din toate competițiile Effie europene.
Victor Stroe, Associate Director & Head of Strategy Leo Burnett Bucharest:
"După doi ani în care a fost Agenția Anului la Effie în România, Leo Burnett Bucharest reușește să primească o confirmare Effie și la nivel European. E o dovadă a unui sistem de a gândi îmbrățișat în întreaga agenție: creativitate construită pe insighturi conectate la realitățile de azi și cu impact în business-ul clienților."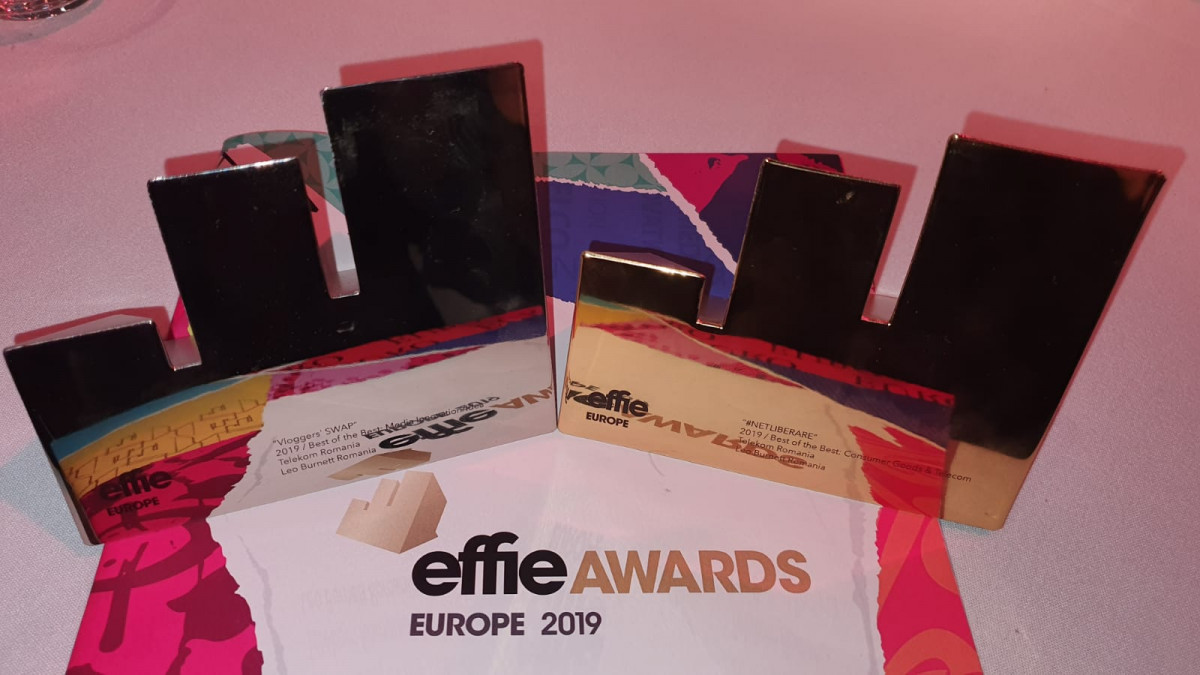 Cele două campanii premiate:
#NETLIBERARE este platforma de comunicare ce a schimbat întreg business-ul rezidențial Telekom (Mobile, TV & Broadband) prin repoziționarea brand-ului ca un Internet brand. Fiecare campanie a vorbit despre internet ca despre un drept al oamenilor, nu un privilegiu, ceea ce a făcut ca Telekom să fie singurul brand de telco parte din zeitgeist-ul oamenilor.
#Netliberare este o campanie de Gold Effie în România.
Vloggers SWAP este o campanie fără precedent construită pe brand purpose Telekom - "Life is for sharing" care a atacat direct problema "filter bubble" ce intră în contradicție directă cu filozofia de brand, afectând generația Z & tinerii mileniali. Telekom a provocat influenceri cu viziuni radical diferite să facă schimb de canale de Social Media timp de 24 de ore, astfel expunând milioanele de români care-i urmăresc la puncte de vedere complet noi și diferite de ale lor, inclusiv pe subiect tabu.
Astfel, Leo Burnett și Telekom au creat un trend care a cucerit internetul cu milioane de views obținute organic, cu zero media și zero hate.
Vloggers' Swap a fost recunoscut și în competițiile Effie România, Internetics, Cannes, Golden Drum, Clio și Eurobest.
Cele două trofee de la Effie Awards Europe se alătură primelor două premii câștigate de Leo Burnett Bucharest în cadrul aceleiași competiții -  Bronze Effie pentru campania "Tide pentru Supermame" (P&G – Tide) și Bronze Effie pentru campania Wash&Go campaign - "Best from traditions".
Premiile Effie Award Europe sunt o dovadă a performanței și a eforturilor eficiente de marketing, construite pe baza unui insight puternic, o strategie complexă și un concept creativ ce duc către atingerea obiectivelor și înregistrarea celor mai bune rezultate. Toate acestea demonstrează eficiența campaniilor premiate.
Leo Burnett este Agenția Anului la EFFIE Awards 2018 și 2019. În mod constant o agenție de top, Leo Burnett a reușit de-a lungul timpului să creeze lideri de piață din clienții pe care i-a deservit. Această perpetuă căutare a excelenței i-a adus agenției atât recunoaștere locală, cât și internațională, câștigând trofee și nominalizări la cele mai importante festivaluri din industrie, precum: Cannes Lions, Golden Drum, Eurobest, Clio Awards, ADC*E, EFFIE, FIBRA, Internetics și multe altele.
Credite
LEO BURNETT BUCHAREST
Diana Alexa – Managing Director
Victor Stroe – Associate Director & Head of Planning
Corina Bratu – Sr Strategic Planner
Mihai Lucanu – Business Unit Director
Magdalena Cernat – Account Manager
Maria Ilea – Digital Account Manager
Laura Moisa - Account Manager
Maria Zvinca – Digital Strategist
Sorin Deleanu - Producer
Alexandru Zlavog – Jr Producer
Andreas Aron – Group Creative Director
Ali Bati – Executive Creative Director
Alin Marghidanu - Group Creative Director
Andrei Petrea – Art Director
Miruna Potop - Copywriter
Silvana Frinculescu – Art Director
Victor Trifan - Art Director
Sebastian Romano - Copywriter
Alin Badiu - Art Director
Roxana Jitaru - Art Director
Andreea Mantescu – Webdesigner
Dominic Timotin – Programmer
TELEKOM ROMANIA
Andreas Elsner - Chief Commercial Officer - Residential Segment
Ruxandra Rau - Director Brand & Communication Strategy
Stefania Rusu - Head of Brand & Marketing  Communication 
Katerina Todorovski - Expert Brand & Communication
Romeo Bunescu - Expert Brand & Communication
Gratiela Sevastita -  Expert Brand & Communication
Luminita Andrei - Expert Brand & Communication
Ciprian Postelnicu - Head of Media
Ioana Stoicescu - Media Expert
Carmen Miu - Media Expert
Ruxandra Voda - Director Corporate Communication
Nida Halit - Expert Corporate Communication
Ana Maria Nitu - Specialist Social Media
Cristina Iliescu - Specialist Social Media
Roxana Baias - Director Segment Marketing 
Daniela Hariuc - Head of Market Research
Cristina Arsene - Digital Expert
Alexandra Sirbu - Digital Expert
Gabriel Traistaru - Head of Digital Campaigns