În acest an, juriul Internetics adună 52 de specialiști care vor analiza și nota proiectele înscrise în competiția care evaluează campaniile de branding, marketing și advertising online locale, ajunsă la ediția cu numărul XVIII. 
Juriul competitiţiei este format dintr-o selecţie de specialişti în marketing, consultanţi, researcheri, publisheri şi oameni de media.
Noua structură competițională însumează trei mari categorii în interiorul cărora vor juriza trei grupuri distincte de profesioniști, aceste categorii fiind: Digital platforms, Digital strategies și Interactive campaigns. Trofeele obținute în cadrul fiecărei secțiuni vor conduce spre acordarea titlurilor de "Agency of the Year" și "Digital Client of the Year". Juriul va alege, de asemenea, și câștigătorul distincției speciale "Best Use of Technology".
Digital Platforms este una dintre cele trei categorii mari și cuprinde secțiuni dedicate mediilor și tacticilor diverse de comunicare folosite în comunicarea online și digitală, concentrate în jurul site-urilor, social media & mobile. Jurații categoriei sunt:
Adina Vlad - Managing Partner │ Unlock Market Research; Adriana Simionescu - Senior Researcher, Market Effectiveness │ Gfk; Anca Ștefan - Chief Digital Officer │ L'Oreal Russia;  Anda Lazăr - Brand Manager │ UniCredit Bank; Cătălina Mergeani - Brand & Digital UX Director │ NN România; Camelia Ganga - Marketing Consultant │ Glovo; Ciprian Postelnicu - Head of Media, Budgeting and Production │ Telekom România; Cosmin Preda - Advertising Team Manager │ eMAG; Crina Chiru - Head of convergence and B2B communication │ Orange România; Cristian Manafu – Managing Partner │ Evensys; Dan Oroș - Marketing Manager │ Google România; Dan Tudoroiu - Digital Project Manager │Antena Group; Eliza Șerban - Group Brand Manager CIUC & Desperados │ Heineken România; Ioana Mârzac – Sigarteu - Corporate Communication Manager │ Samsung Electronics România; Luminița Boștinaru - International Marketing Manager │ AQUA Carpatica; Mihai Tănase - Head of Digital & CRM │Renault & Dacia România; Vica Schipor-Doroftei - Social Media Manager │ Bitdefender România; Victor Kapra - Online consultant.
Cea de-a doua categorie, Digital Strategies, vorbește despre strategii de digital, indiferent de mediile utilizate, cu o abordare "how to do it" raportată la consumator. Categoria cuprinde patru secțiuni care urmează să fie jurizate de:
Adina Nica – Research & Strategy Consultant│ Open-I Research; Alex Dona; Dan Petre - Business Developer │ D&D Research;  Denisa Mirea - Brand Communication and Advertising Manager│ Avon România; Dragoș Stanca – Founder │ iCEE.fest; Irina Pocovnicu - Digital Marketing Consultan­­­t. Founder │ Digitalize; Laura Mihăilă - Head of Marketing │ BCR; Matei Psatta - Co-Founder & CMO │ TPS ENGAGE; Mihaela Oprescu - Kent International Brand Manager │BAT; Raluca Alexandrescu - Ecommerce & Loyalty Marketing Director│ Mega Image; Ramona Ciocodei - Communications & Digital Manager │ McDonald's; Răzvan Mircea - Marketing Director │ Strauss Balkans; Ruxandra Mocanu - Independent Marketing Consultant; Simona Andrei - Brand Manager │ Pernod Ricard, Greta Redeleanu - Marketing Director │ Regina Maria.
Categoria Interactive Campaigns reunește toate eforturile unei campanii integrate sau full-digital, unde fiecare secțiune reprezintă mai multe industrii sau zone de piață. Categoria va fi jurizată de următorii specialiști: 
Alina Crangă - Brand Manager │ Kandia-Dulce; Ana Vișian - Head of Advertising Sales │ OLX Group România; Bogdan Toacșe - Senior Department Manager Brand Management  │ OMV Petrom; Bogdan Țurcanu - Senior Innovation Manager │ Ursus Breweries; Cosmina Frîncu - Brand Communication Manager │ BRD Groupe Société Générale; Cristina Avram - Marketing Director │ Avon România; Cristina Hanganu - Communication & CSR Director │ Lidl România; Dan Zloteanu - Business Consultant & Marketing Researcher │ MRI/The Network; Elena Șerban - Business Development and Marketing - Emerging Markets expert; Georgiana Oltenescu - Head, Marketing & Communication │ Globalworth; Ileana Cipca - SMB Channel Marketing Lead │Microsoft Western Europe; Liliana Martin - Communication Strategy and Planning Manager │ Vodafone; Lucia Antal - Marketing Director │Pro TV; Matei Goncea - Senior Creative Excellence Manager - Central & Eastern Europe │ Coca-Cola; Nicoleta Mihăilescu - Marketing Manager Baby Care South East Europe │ Procter & Gamble; Ramona Bratu – Marketing Manager │ Untold & Neversea Festivals; Simona Bețiu - Advanced Analytics Leader │ Nielsen Research;  Teodora Juravle - Marketing Communications Director │ Vel Pitar; Tina Crețu - Senior Digital Marketing Manager │ KFC, Pizza Hut & Taco Bell.
Sistemul de vot presupune o notare online completată de o serie de jurizări offline. Aceste ultime sesiuni, care aduc juriul pe fiecare categorie la aceeași masa, vor fi moderate la Internetics 2018 de Alina Cătălina Bănuleasa, Lead UX Designer for FIFA @EA Sports & Co-founder Design Thinking Society.
Alina are background în marketing și o experiență solidă în user experience și design thinking, fiind în prezent liderul echipei UX din București, dedicată creării celor mai bune experiențe în cunoscutul joc FIFA. Recent, a devenit co-fondator Designer Thinking Society împreună cu alți 3 makeri din țară, alături de care își propune să schimbe design-ul în România.
În competiția Internetics 2018 au fost înscrise 149 de lucrări din partea a 25 de agenții și companii participante, realizate pentru 47 de branduri.
Internetics Festival, un proiect inițiat de The Institute și prezentat de UniCredit Bank, cuprinde anul acesta o expoziție de realitate virtuală (VR), realitate augmentată (AR) și instalații digitale - Internetics Interactive Expo, organizată în perioada 22-25 noiembrie la The Institute Space (Bd. Dacia 12), competiția Internetics și gala în cadrul căreia vor fi anunțate cele mai eficiente și creative proiecte din mediul online, care va avea loc pe 28 noiembrie, la Deschis Atelier (Nod makerspace, Splaiul Unirii 160). În aceeași seară, finalul festivalului va fi sărbătorit printr-o petrecere cu acces liber la Deschis Gastrobar (Nod makerspace, Splaiul Unirii 160).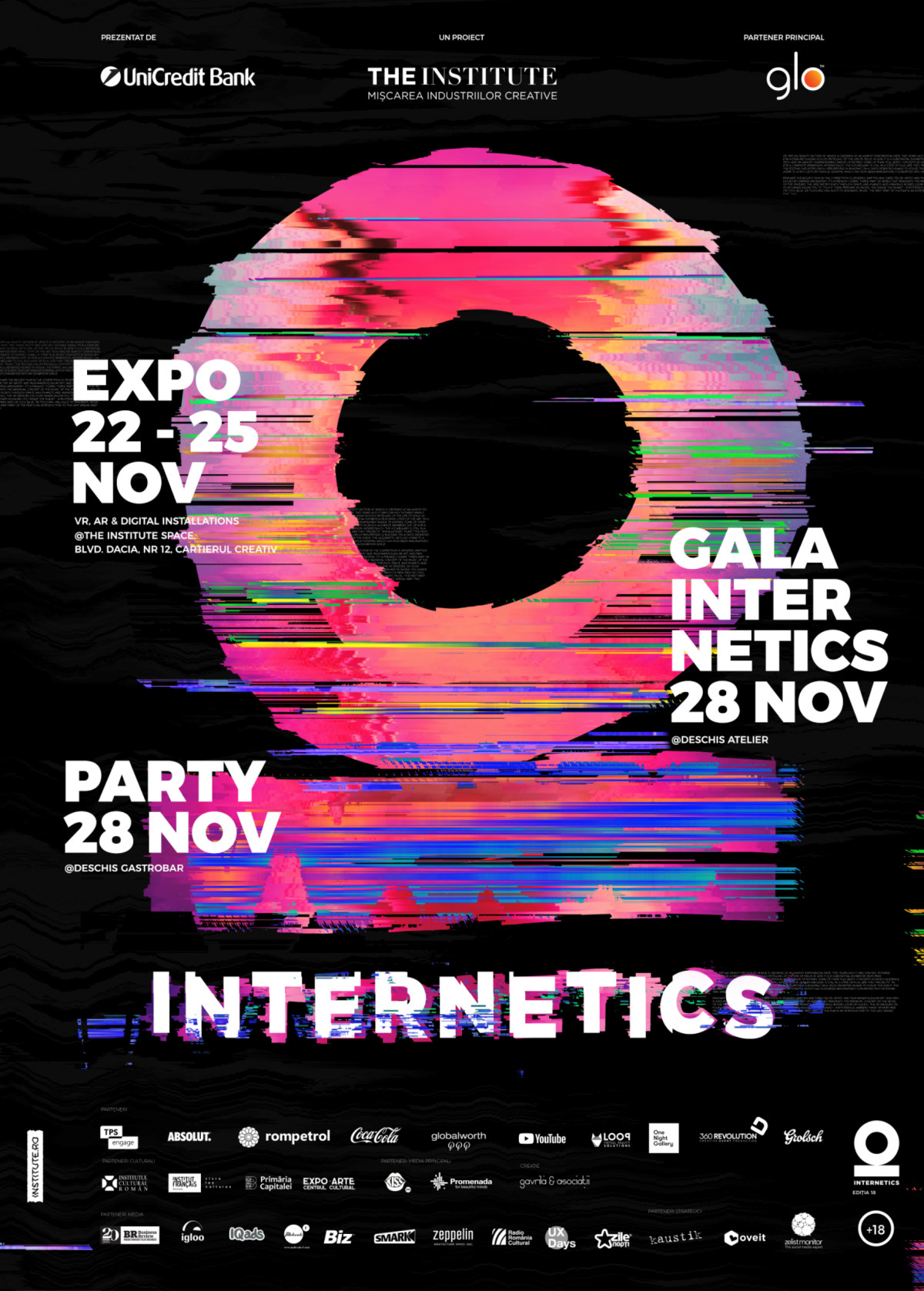 Parteneri Internetics 2018:
Un proiect: The Institute
Prezentat de: UniCredit Bank
Partener principal: glo
Parteneri culturali: Institutul Cultural Român, Institutul Francez, Primăria Municipiului București prin Centrul Cultural Expo Arte
Parteneri: Absolut, Coca-Cola, Globalworth, Grolsch, Loop VR, One Night Gallery, Rompetrol, TPS Engage, Youtube, 360 Revolution
Creație: Gavrilă & Asociații
Parteneri media: Business Review, Igloo, IQads, Molecule F, Radio Romania Cultural, Revista Biz, SMARK, Ux Days, Zeppelin,  Zile si Nopti
Parteneri strategici: Ove, Kaustik, Zelist