Din motive numai de ei stiute, anumiti oameni vor sa fie buni public speakeri. Altii vor doar sa-si spuna punctul de vedere. Sau sa puna in lumina noi puncte de vedere. Altii sunt interesati de cum se exprima, ca doar lucreaza in comunicare. Mai sunt si cei care vor sa-si faca treaba mai bine, in fiecare zi, si vin sa dea asta mai departe. Pe toti oamenii astia ii gasim de obicei pe scenele evenimentelor de comunicare/marketing/business, la invitatiile organizatorilor. Din public, ii privesc oameni cu aceleasi interese. Sau altii, care vor numai sa-i vada cum gandesc. Sau cei care au venit ca sa-i prinda dupa paneluri, sa le spuna una-alta. Dar si cei carora nu le e foarte clar de ce se afla acolo. Sau cei hotarati ca evenimentele de gen traiesc dintr-o inertie care o sa se sparga si ea la un moment dat.
O multitudine de motivatii si de perspective au fost de-o parte si de alta scenei de la Premiile FIBRA, care au avut loc pe 16 si 17 noiembrie la Hotel Caro. Editie la care am pregatit un program format exclusiv din debate-uri. Am vrut sa fie onest, divers si sa aducem fata-n fata oameni cu opinii diferite din a caror confruntare sa se poata trage niste concluzii, sa se gaseasca unghiuri noi, idei noi sau posibilitati inca neexploatate.
N-am reusit cu totul, dar ce am reusit s-a vazut. Iar pentru cei care nu au vazut, avem in continuare o arhiva video FIBRA #2, cu toate debate-urile imortalizate intru posteritate.
Prima zi a Conferintelor FIBRA #2 a debutat cu un panel semnat ADC*RO despre cum gestionezi bulele, publicitare sau de alta natura, in care tinzi sa te lasi inchis daca nu te prinzi ca trebuie sa mai scoti capul si pe afara.
"Breaking Out of the Bubble" l-a avut ca moderator pe Sorin Tranca (Managing Partner, Friends\TBWA) si invitati pe Claudiu Dobrita (Creative Director, FCB Bucharest), Andreea Ghenoiu (Group Creative Director, Jazz Communication), Laura Nedelschi (Creative Director, Kubis Interactive), Radu Pilat (Managing Partner, Heist Industries), Raluca Popa (Group Creative Director, Leo Burnett Romania), Mihaela Neatu (Group Creative Director, Rusu+Bortun) si Simona Suman (Group Creative Director, MRM Worldwide Romania).
Auzite in panel:
"Publicitatea e o zona de confort atipica. In bula te bagi sa nu te doara. Dar aici nu e asa".
"Trebuie sa depasim aceasta anxietate, de a iesi din bula. Nu avem luxul de a comunica doar cu oameni similari noua".
"Noi avem o problema si cand vrem sa facem ceva pentru bula noastra".
In continuarea primei zile, Gabriela Lungu (Founder, WINGS Creative Leadership Lab) le-a invitat pe scena FIBRA pe cele 3 femei din juriul acestei editii: Casey Rand (Group Creative Director, Droga5 NY), Casey Bird (Freelance Conceptual Writer & President, SheSays) si Soomean Chang (Freelance Creative Director).
A fost un panel plin de povesti, marcat de ideea ca, actualmente, sprijinul si favorizarea genului feminin sunt cat se poate de potrivite - si necesare in vederea unei meritocratii reale. Mentionam pentru curiosi ca, initial, panelul legat de stereotipurile feminine era planificat altfel, dar cativa dintre invitati au refuzat prezenta pe considerente legate de tema.
Auzite in panelul "Female Gender Stereotypes in Ads & Agencies":
"E nevoie ca femeile si barbatii sa fie in aceeasi camera cand se hotarasc lucruri in publicitate".
"Unii spun ca termenul de feminisim trebuie rebranduit, dar eu nu cred asta.  El inseamna drepturi egale, punct."
"E si sinceritate, e si oportunism. Dar cui ii pasa? Pana la urma, rezultatul e imaginea unor femei reale".
 Un moderator idiot, cum s-a descris pe sine, de formare copywriter, a avut de discutat cu un panel de designeri despre subiectul design craft. Adica designul bine facut. Adica, cu alte cuvinte, de ce-s campaniile romanesti asa urate?
 "Defining the Need for Design Craft" l-a avut in frunte pe Serban Alexandrescu (Managing Director, Headvertising), care i-a adus, pe rand, in spotlight pe: Mihai Coliban (Creative Freeman), Eugen Erhan (Freelancer & funny man Fredo & Pid'jin), Alexandru Manda (Director de imagine si vanzari, Atelierele Pegas), Andrei Stoleru (Creative Director, Carioca Studio), Bob Toma (Creative Director, Rusu+Bortun Brand Growers) si Liviu Turcanu (Creative Director, Mercury 360).
Auzite in panel:
"De ce din unele agentii ies mereu chestii misto, iar din altele, NICIODATA?"
"Clientul trebuie expus mai mult frumosului, trebuie chiar educat. Si trebuie spus: avem craft zero in Romania".
"Fara un timp rezonabil, creativul nu poate scoate o opera de arta. Fara bani se poate face, dar fara timp, sigur nu."
Cu activismul ne stiti interesati; am avut si noi un caz in ograda noastra, si o serie editoriala, am avut si un panel; dar zona ramane gri. Cat de sincere/transparente pot fi brandurile dincolo de obiectivul profit? Nu prea sincere. Cat ne intereseaza asta? Variabil. Ce inseamna, in esenta, activismul branded? Apropiere suplimentara fata de viata consumatorilor; care, cu forta si minciuna, nu prea merge. Deci cum implici un brand intr-o conversatie/cauza sociala? Cu grija, tact si mobilizare concreta sau deloc.
Costin Radu (Communication Consultant)  a moderat panelul "Brand Activism: Between Authenticity and Opportunism", populat de Cristina Avram (Brands & Communication Marketing Manager, Fabryo), Stefan Chiritescu (Head of Strategy, Kubis Interactive), Raluca Feher (Consultant de comunicare si Presedinte Frontline Club Bucuresti), Sergiu Mircea (Head of Marketing & Communication, Banca Transilvania) si Eliza Rogalski (Founder, Rogalski Damaschin PR).
Auzite in panel:
"As recomanda agentiilor si clientilor sa aduca brandul in viata societatii."
"Avem tendinta sa fim demanding cand investim intr-o cauza. Vrem ca oamenii aia sa fie perfecti; n-au voie sa iubeasca, sa greseasca, sa glumeasca".
"Uneori, e bine sa nu vorbesti, asta e o chestie de bun-simt daca stai sa te gandesti. Dar sunt unele cazuri in care *trebuie* sa vorbesti, pentru ca, altfel, esti halit".
Sa nu zica nimeni ca publicitatea romaneasca nu naste emotii puternice. Ce ne-am mai distrat la FIBRA Creative Night. O sesiune de  rasu' plansu' cum n-a mai fost demult, la finalul careia toata lumea s-a impacat. Pacat ca nu s-a intamplat pe scena. Al doilea pacat ar fi o proiectie muncita, de putin sub 60 de minute, cu spoturi "WTF" si spoturi "WTF ce misto" amestecate (ca nu era sa fie doua gramajoare separate), vizualizata in proportie de sub 30% pana sa se opreasca. Cu intrebari ulterioare de tipul "de unde sunt spoturile astea?", "cine a facut proiectia asta si pe ce criterii?", "nu stiu jumate din spoturile astea, deci nu sunt reprezentative", dar si cu feedbackuri ok.
Silviu Gherman a evoluat pe scena FIBRA in rol de provocator, iar cei care i-au raspuns, pe rand, au fost: Bogdan Costin (Group Creative Director, McCann Romania), Raul Gheba (Copywriter, MullenLowe Romania), Anca Macoviciuc (Morning Show Host & Producer, TANANANA), Ruxandra Predescu (Freelance PR & Blogger), Valentin Suciu (Creative Partner, Jazz Communication) si Carmen Tiderle (Creative, Directia Creativa). Proiectia e imediat aici.
Auzite in panel, more or less:
"Ce facem bine, ce facem rau?"
"Incotro se indreapta advertisingul romanesc?"
"De ce cacat tipa Silviu Gherman la noi?"
Unul dintre cele mai reusite paneluri de la Conferintele FIBRA, daca nu chiar cel mai reusit, a fost un experiment. De la ideea noastra cu a pune agentiile si clientii fata-n fata, de a evidentia lipsa comunicarii eficiente dintre cele doua parti pe ideea "Are Clients from Mars & Agencies from Venus?", moderatorul Victor Dobre (Director General, IAA Romania) a prelucrat o structura interactiva a panelului, cu 3 faze, in care agentiile si clientii au avut cateva conversatii reale si reusite.
Altfel spus, pe scena premiilor FIBRA s-au efectuat cateva exercitii de empatie, cu succes. Intre tabara clientilor, cu Cristina Hanganu (Communication & CSR Director, Lidl Romania), Ruxandra Rau (Brand & Communication Strategy Director, Telekom Romania), Oana Stincel (Marketing Director, Macromex) si Victor Teiosanu (Premium Brands Director, URSUS Breweries), si reprezentantii agentiilor, adica Serban Alexandrescu (Managing Director, Headvertising), Cristiana Belodan (Executive Director, GMP Advertising), Mihai Fetcu (Creative Director, Geometry Global Bucharest), Hortensia Nastase (Vice President Creative Services, MullenLowe) si Sorin Tranca (Managing Partner, Friends\TBWA).
Auzite in panel:
 "89 de modificari pe un cut."
 "Draga client, as aprecia daca ai avea timpul sa scrii un brief decent".
"Dati-mi ceva care sa ma faca sa lucrez cu placere". 
In cadrul panelului legat de digitalul creativ, s-a ajuns, in esenta, la ideea ca atat povestile digitale, cat si masuratorile digitale conteaza. Masuratorile fiind ceva mai importante pentru client, in timp ce povestile/craftul digital fiind prioritizate de catre agentii. Iar userii? Sunt pe undeva intre, flancati de adblockere. 
Dragos Stanca (Managing Partner, ThinkDigital) a condus panelul "The Untapped Potential of Digital Creative", format din urmatorii: Razvan Acsente (Head of Marketing, OLX Group Romania), Matei Curtasu (Creative Director, GMP Advertising), Mihnea Gheorghiu (Global Digital Creative Director, Publicis Italia), Andrei Ungureanu (Digital Content Manager, Coca-Cola), Dinu Panescu (Creative Director & Partner, The HUB Partners), Matei Psatta (Head of Marketing, Vola), Costin Radu (Communication Consultant) si Daniel Secareanu (VP, IAB Romania).
Auzite in panel:
"Hai sa facem story, spun toti la astfel de evenimente. Dar jumatate din ce vedem pe net e intruziv". 
"Dar bannerele sunt foarte usor de masurat, iar povestile sunt mai greu de masurat".
"E mai bine sa servesti un ad bun audientei gresite decat un ad prost audientei bune."
In finalul conferintelor festivalului, chiar inainte sa aflam castigatorii acestei editii a Premiilor FIBRA, am respectat traditia panelului de round-up cu juriul international, din care speram sa aflam cele mai bune puncte ale advertisingului romanesc si unde ar mai fi de slefuit. Un punct de tinut minte aici? Pai, ca totul pare destul de tranzactional, asa a spus presedinta juriului FIBRA #2. "Tranzational" adica "sec", "mecanic", poate daca mergem mai departe ajungem la un "lipsit de vlaga".
"Where It's At: Highlights of Romanian Creative Work" l-a avut drept moderator pe Costin Radu (Communication Consultant), care a vorbit despre intregul campaniilor romanesti cu Casey Rand (Group Creative Director, Droga5 New York), Casey Bird (Freelance Creative Director & President, She Says London), Aitor Borras (Associate Creative Director, apple tree communications), Soomean Chang (Freelance Creative Director), Howard Finkelstein (Senior Copywriter, Wieden+Kennedy New York), Levan Lepsveridze (Chief Creative Officer & Co-founder, Leavingstone) si Jussi Pekkala (Creative/Copywriter, hasan & partners).
Auzite in panel:
"Unele case-uri nu erau foarte clare pe partea de storytelling".
"Workul mi s-a parut un pic tranzactional. Incercati sa iesiti din zona publicitatii, cititi poezii, mergeti la muzee si lasati arta sa va inspire".
"Uneori e mai usor sa faci glume decat sa faci lucrurile mai simple; insa simplitatea e foarte importanta."
Cam atat ne-a fost si cu arhiva. Multumim tuturor pentru participare, idei, concluzii sau lipsa lor, ca si asta spune ceva.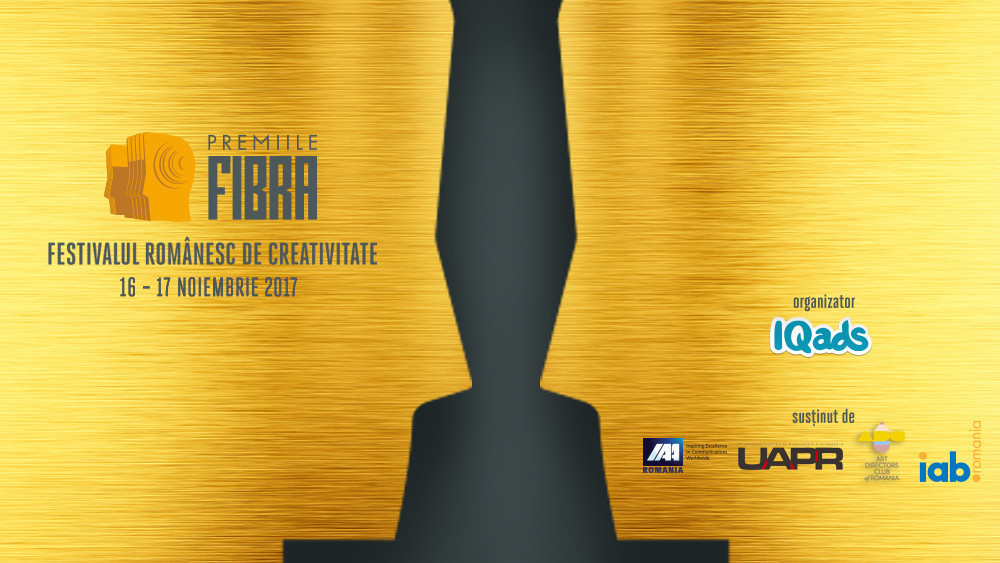 Premiile FIBRA reprezinta un demers local necesar pentru a seta nivelul profesionalismului din marcomul autohton si, totodata, pentru a-i sustine dezvoltarea. Prin intermediul Premiilor FIBRA recunoastem, incurajam si premiem valoarea creativitatii locale si readucem entuziasmul si curajul la masa dezbaterilor creative. 
Festivalul este organizat de IQads, platforma media dedicata industriilor creative din Romania.