Editia aniversara de 20 de ani a competitiei Internetics a inregistrat 208 inscrieri in competitie, de la 53 de participanti. Lucrarile, impartite in cele trei mari categorii ale festivalului, vor fi jurizate de 62 de specialisti in marketing si comunicare digitala.
Cei 53 de participanti care s-au inscris anul acesta in competitie, cu proiecte dezvoltate in perioada octombrie 2019 – august 2020 sunt: 2Performant | 50s Digital | Cheil Centrade Romania |Cohn & Jansen JWT | Creative VR (CVR) | DDB Romania | Dume de Mestecat & 441 Design Studio | E-Distributie | Electric Castle | Fennec | Friends \ TBWA | Geometry Bucharest | glitch |GMP Group| GMP+WEBSTYLER | Golin | Graffiti PR | GroupM Romania | Jazz Communication | Kubis | L2 | Leo Burnett | Lidl Romania | MAINSTAGE - THE AGENCY | Marks | McCann PR | Mindshare | MRM | MSL The Practice | MullenLowe Romania | Ogilvy Romania | ontheroof | Pattern // Mind Treat Studios | Porter Novelli Public Relations | Profero Bucuresti | Publicis Romania | Saatchi & Saatchi + The Geeks |  SmartPoint Consulting | Snapshot Communication | SQUAD.influencers | Stefanini Infinit|StoryWood Studio | Summer Well | Sunday Morning Communication | The Sports Architects| the Syndicate | Tremend Software & Softeh Plus | Wavemaker | WOPA | WUNDERMAN THOMPSON ROMANIA | WWF-ROMANIA.
Categoria Digital Platforms cumuleaza 70 de inscrieri, in sub-categoriile Sites, Mobile, Digital Craft si Social Media. Sectiunea nou introdusa "Influencer Marketing" detine recordul de inscrieri din categorie, cu 24 de proiecte. 
Vor decide castigatorii Gold si Silver pe fiecare sectiune din Digital Platforms urmatorii specialisti:
Alex Dona | Marketing Mindset, Anca Roman | Corporate Affairs & Communication Manager, FrieslandCampina Romania, Aneta Plesa | Agency Partner Manager, Google Romania, Anne-Marie Ionescu | Marketing Manager, Magic FM & Rock FM, Arina Ureche | General Manager, BRAT, Camelia Petrescu | Associate Director, Unlock Market Research, Crina Chiru | Consumer Communication Manager, Orange Romania, Cristian Clita | Co-create IKEA Community coordinator, IKEA of Sweden, Cristian David | Digital Marketing Director, Kaufland Romania, Cristian Manafu | Managing Partner, Evensys, Cristina Miclea | Marketing Director, Albalact, Cristina Micu | Marketing, Customer & Digital Director, King Fisher Brico Depot, Dan Petre | Business Developer, D&D Research, Daniela Hristofor | Ariel & Tide Brand Manager, Procter & Gamble South East Europe, Eliza Serban | East Balkans Sr. Marketing Manager Snacks, PepsiCo Romania, Ioana Vieru | Brand & Product Marketing Manager, Visa Romania, Irina Pocovnicu | Digital Marketing Consultant & Founder, Digitalize, Iuliana Maratu | Head of Brand and Marketing Communication, E.ON Energie Romania, Mihai Tanase | Head of Digital & CRM, Groupe Renault Romania, Ruxandra Mocanu | Independent Marketing Consultant, Sorina Diaconu | Marketing Director, Group MedLife, Valentina Vesler | Communication & Advertising Director, Valvis Holding, Vica Schipor | Social Media Manager - Romania, Bitdefender si Wenka Booij | Head of Marketing & Brand, ING Romania.
Categoria Digital Strategies reuneste tot 70 de proiecte, in sectiunile Brand Associated Communities si Brand Built Communities (grupate in sub-categoria Communities), Online Branded Content, Digital Brand Experience si Gamification. Online Branded Content conduce topul in categorie, dar si in intreaga competitie, cu un total de 33 de inscrieri.
Aleg castigatorii in fiecare sectiune urmatorii specialisti in marketing si comunicare online:
Adriana Muscalu | Senior Research and Business Consultant, Exact Business Solutions, Ana Visian | E-Commerce Manager, Urban Monkey & Frufru.ro, Andra Voicu | Manager Portfolio & Content Strategy, Philip Morris International, Andrei Dumitrascu | Marketing & Communication Director, Secom Romania, Andrei Lascut | Head of Brand Strategy, The Temple, Carmen Popa-Nemoiu | Country Growth Manager, Revolut Romania, Cosmina Frincu | Brand Communication Manager, BRD Groupe Societe Generale, Costin Radu | Independent Strategy Consultant, Cristina Avram | Marketing Manager, AVON Romania, Dan Zloteanu | Business Consultant & Marketing Researcher, MRI / The Network, Elena-Madalina Serban | Business Development and Marketing - Emerging Markets expert, Business Architects HEB, Eleodor Ghenoiu | Head of Brand and Advertising Management, Enel Romania, Ivan Laketa | Head of Marketing, Bringo, Liliana Martin | Communication Strategy and Planning Manager, Vodafone Romania, Lucia Antal | Head Research & Development, PRO TV, Madalina Mitru | Marketing Manager Doncafe & Fort, Strauss Romania, Maria Chelemen | Marketing, Digital, Loyalty and Customer Care Manager, MOL Romania, Raluca Alexandrescu | Loyalty & Ecommerce Marketing Director, Mega Image, Raluca Nicolaescu | Head of Marketing, Mastercard Romania, Ramona Ciocodei | Communications & Digital Manager, McDonalds si Simona Andrei | Brand Manager, Pernod Ricard Romania.
Categoria Digital Campaigns, updatata din fosta categorie Interactive Campaigns, completeaza totalul de inscrieri cu 68 de campanii online in 9 sectiuni de concurs, reprezentand diverse industrii: FMCG – Food, FMCG – Drinks, FMCG –Non food, Services, Retail, Durables, Art/Culture/Media & Entertainment, Social campaigns/political & awareness messages si Others. Sectiunea "Social campaigns, political and awareness messages" are cele mai multe inscrieri in categorie – 18, o reflexie a ultimelor luni, urmata de "Retail", cu 11 proiecte inscrise.
Jurizeaza si aleg cele mai bune proiecte din fiecare sectiune a categoriei Digital Campaigns:
Adina Nica | Partner Garrison Group; Research & Strategy Consultant, Open-I Research, Alina Cranga | Group Brand Manager, Kandia Dulce, Anca Zamfirescu | Consumer Insights Senior Manager Balkans, Nielsen, Anda Lazar | Brand Manager, UniCredit Bank, Bogdan Toacse | Senior Department Manager Brand Management, OMV Petrom Marketing, Bogdan Turcanu | Commercial Manager, Ursus Breweries, Ciprian Postelnicu | Head of Media, Telekom Romania, Cristina Hanganu | Director of Communication & CSR, Lidl Romania & Vicepresident Global Women in PR Romania, Daria Gonta | Senior Brand Manager Water, Dairy & New Beverages Romania, The Coca-Cola Company, Georgiana Oltenescu | Group Head Marketing and Communication, Globalworth, Greta Redeleanu | Marketing Director, Regina Maria, Ioana Marzac-Sigarteu | Corporate Communication Manager, Samsung Electronics Romania, Kai Heuser | Group Creative Director, R/GA Berlin, Laura Mihaila | Head of Marketing, BCR, Mihai Bonca | Senior Consultant, Brand Architects, Monica Dudau | Brand Manager Storia.ro & OLX Imobiliare, Tina Cretu | Senior Digital Marketing Manager KFC, Pizza Hut & Taco Bell si Victor Kapra | Online consultant.
Juriul competitiei Internetics 2020 este format din specialisti in marketing, comunicare online, experti in research si media, consultanti independenti si reprezentanti din buticuri de consultanta online din Romania. De asemenea, pentru ca ambele runde de jurizare se vor desfasura online, juriului traditional i se alatura, in acest an aparte, si o serie de guest judges: profesionisti in marketing si advertising online din afara tarii, din Suedia, Olanda si Germania.
Jurizarea va fi condusa de Kris Hoet, Global Chief Innovation Officer la FCB. Kris va stabili pragul fiecarei categorii pentru accederea proiectelor in runda finala. Shortlistul va fi setat pe baza notelor acordate online, individual, de catre membrii juriului in prima runda de jurizare. Pe baza shortlistului se vor alege castigatorii editiei 2020.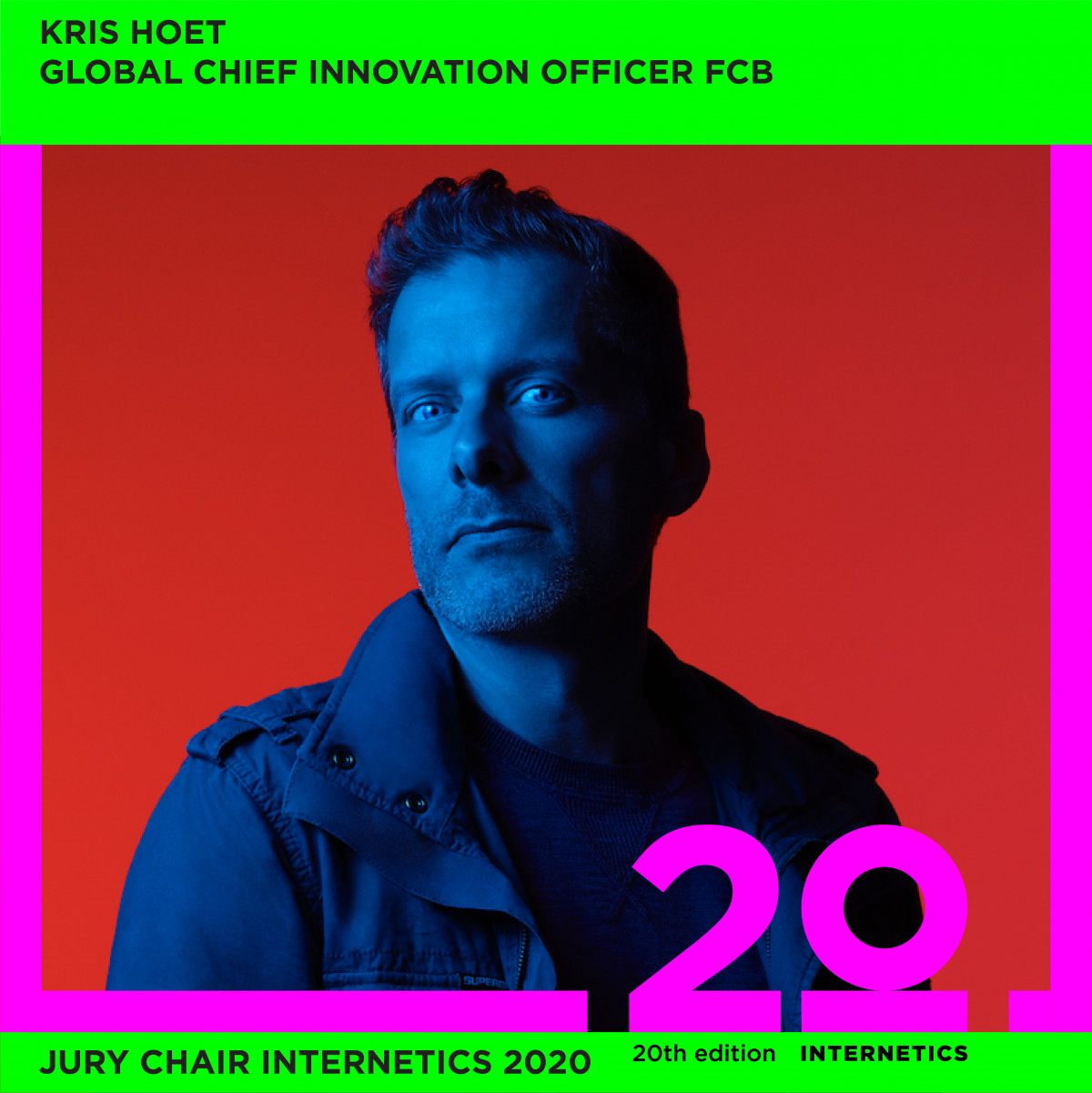 A doua runda de jurizare se va desfasura tot in mediul online si va cuprinde cate o intalnire cu fiecare dintre grupele de jurati care au jurizat cele trei mari categorii ale competitiei: Digital Platforms, Digital Strategies si Digital Campaigns. Kris va modera toate cele 3 sesiuni, el fiind cel care va avea perspectiva asupra intregii competitii.
Cele doua runde de jurizare vor stabili trofeele de Gold si Silver pe fiecare sectiune de concurs si premiul special "Best Use of Technology", decis de toate cele trei grupe de jurati, dintre toate lucrarile inscrise in competitie. Agentia care acumuleaza cele mai multe puncte obtine titlul de "Agency of the Year". Compania care dovedeste cea mai eficienta si creativa prezenta in mediul online, pe baza aceluiasi sistem de puncte, va fi recompensata cu titlul "Digital Client of the Year".
Tinand cont de perioada de eligibilitate a lucrarilor, care combina ultimele luni din 2019 si anul 2020 (pana in luna august), generand astfel un cumul de proiecte create in doua contexte total diferite, Starcom MediaVest, partener Internetics 2020, a pus la dispozitie un set de date de research pentru ultimele luni, cu statistici privind evolutia comportamentului consumatorilor sau impactul agendei publice asupra consumului de media, precum si o analiza pentru cele mai importante industrii competitoare in festival. Acest set de informatii va fi pus la dispozitia juratilor pentru ambele runde de jurizare. Setul de informatii a fost pregatit in baza datelor acumulate de catre Publicis Groupe România in ultimele luni, inca de la startul starii de urgenta, prin cele doua produse dezvoltate in-house: Strategic Daily Bulletin si White Papers.
Gala de premiere Internetics va avea loc in luna octombrie, in format online. Detaliile vor fi comunicate in curand.
Internetics este un proiect The Institute, cu partener principal UniCredit Bank si sustinut de IQOS, Absolut si YouTube.